Dharamshala 2022 | 20 Places to visit in Dharamshala 2022 | Dharamshala Tourist Places | Things to do in Dharamshala | Dharamshala Tourism | Part-02
History of Dharmshala
Nestled in the slopes of the Dhauladhar mountain range of the Himalayas, Dharamshala is one of the most beautiful tourist destinations in Himachal Pradesh. Millions of domestic and foreign tourists flock to Dharamshala throughout the year. The city was named Dharamshala because of a Hindu Dharamshala located on the slopes of the Dhauladhar mountain range.
The main hospice city came into existence in 1849 at the time of the British rule. Due to its geographical and strategic importance, the British officers had established a military camp at Dharamshala. Even today, many buildings and churches built during the colonial period in Dharamshala represent very beautiful examples of British architecture.
Dharamshala is a city divided into two parts, the first part of which is called Lower Dharamshala "Kotwali Bazar" and it is 1456 meters (4780 ft) above sea level. The second part of Dharamshala is called Upper Dharamshala "McLeodganj", which is only 2082 meters (6831 meters) above sea level. Most people do not know that McLeodganj is a part of Dharamshala and residents know it as Upper Dharamshala.
You get to see the most beautiful tourist places in Dharamshala in McLeodganj. The centre of the displaced government of Tibet is also in McLeodganj, so in Dharamshala and McLeodganj you get to see a unique confluence of Hindu and Tibetan culture. There is also a lot of Buddhist monastery in Dharamshala and McLeodganj, some of which are very famous all over the world.
In these Buddhist monasteries, people of different religions from India and the world, apart from followers of Buddhism, come to Dharamshala to see these monasteries throughout the year. Apart from the Buddhist monastery, there are many trekking spots in the vicinity of Dharamshala, after completing these tracks, you can also see the peaks of the high mountains of the Himalayas from here.
Dharamshala is a city where you get a glimpse of rural and urban surroundings simultaneously. Being a famous tourist destination, Dharamshala has all kinds of facilities available.
Kangra Fort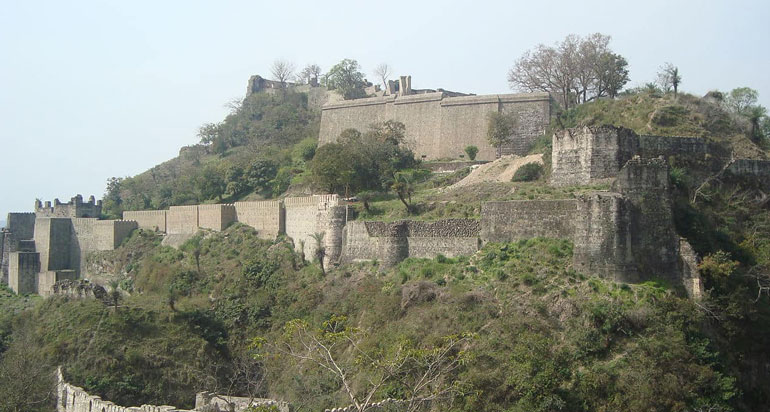 Kangra Fort, situated on the outskirts of Kangra city, is located about 20 kilometres from Dharamshala, this fort is one of the oldest forts in India. This fort was built by the rulers of the Katoch dynasty. To take control of Kangra Fort, many Mughal invaders repeatedly attacked and looted the Hindu temples built in this area.
Mahmud Ghazni made the first invasion of Kangra region in 1009 AD, followed by Feroz Shah Tughlaq in 1360 AD and Sher Shah in 1540 AD. Akbar also laid siege to take control of the Kangra fort and was captured by his son Jahangir in 1620 AD. Jahangir had to lay siege to this fort for a long period of 14 months to take control of the Kangra Fort, after which Jahangir was successful in taking possession of the fort when there was a shortage of logistics material.
After taking over the fort, Jahangir sacrificed the bull in this fort and built a mosque here. The Katoch rulers also attacked the Mughal control areas from time to time and weakened their control. Maharaja Sansar Chand regained control of this fort in 1789 AD. The Treaty of Jawalamukhi takes place between Maharaja Sansar Chand and Maharaja Ranjit Singh of Punjab in 1806 AD.
After the death of Maharaja Sansar Chand in 1828, this treaty also gets cancelled and in 1846 the British take possession of this fort. This fort is one of the most suitable places to know the history of Himachal Pradesh closely.
Kangra Fort Timings
From 09:00 AM to 06:00 PM (open to tourists throughout the week)
Kangra Fort Entry Fee
Indian Tourist – 150 / – INR
Foreign Tourist – INR 300 / –
Kangra Art Museum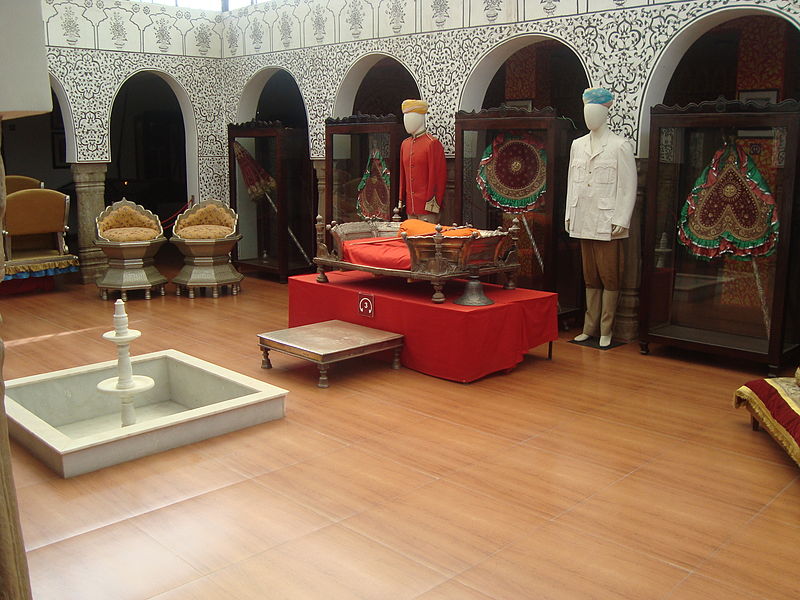 The Kangra Art Museum is located just 1.5 km away from the main city of Dharamshala. This art museum exhibits artworks associated with Tibetan and Buddhist culture in a very attractive way. The Kangra Art Museum was established in 1990, this museum has a collection of the cultural heritage of the Kangra Valley, ancient artefacts, art and miniature paintings ranging from temple carvings, clothes, embroidery, weapons and royalty to many antiques.
The museum displays jewels, embroidered costumes and wood carvings of various tribes living here. Here you also get to see a collection of rare coins, ancient pottery and idols. A collection of some objects dating back to the 5th century is also on display at the Kangra Art Museum.
A part of this museum is also dedicated to contemporary artists and photographers. Kangra Art Museum is considered to be the most suitable place to know the ancient history of Kangra and Dharamshala closely.
Kangra Art MuseumTimings
Morning:-10:00 AM to 01:30 PM
Afternoon:- 02:00 PM to 05:00 PM
(The museum is closed on Mondays and public holidays)
Kangra Art Museumt Entry Fee
Indian Tourist – INR 10/-
Foreign Tourist – INR 50/-
Jwala Devi Temple Kangra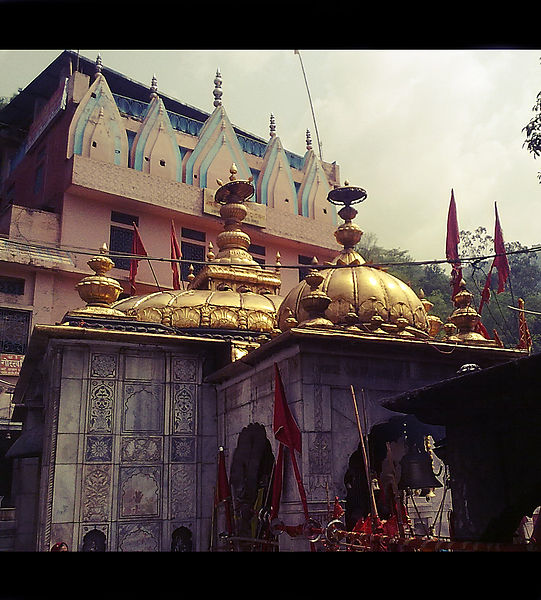 Jwala Devi Temple located in the foothills of the Himalayas is the main religious site of Kangra district. Jwala Devi Temple is just 52 kilometres from Dharamshala. Jwala Devi Temple is one of the 52 Shakti Peethas, it is believed that the tongue of Goddess Sati fell at this place, and when the tongue of Goddess Sati fell at this place, a fire ignited here which is still present today.
It is constantly burning here. Some devotees believe that the clothes of Goddess Sati fell here. This ancient temple is considered to be one of the oldest temples after the Vaishno Devi temple located in Katra. No idol is worshipped in the sanctum sanctorum of Jwala Devi temple, but here 09 different flams emanating from the ground are worshipped.
All the flames burning in this temple have been burning naturally for many centuries, they do not use any kind of fuel to burn the flame. All these flame are worshipped as the nine forms of Goddess Durga – Mahakali, Annapurna, Chandi, Hinglaj, Vindhya Vasini, Mahalakshmi, Saraswati, Ambika and Anji Devi. Here, Goddess Durga is offered Prasad of Rabri.
During the Navratras, a huge annual fair is organized in Jwala Devi Temple, in which lakhs of devotees come from all over the country to participate. Maa Jwala Devi is also considered as the Kuldevi of Thakurs, Lakhanpal, Bhati and Gujaratis. Jwala Devi Temple is also mentioned in Mahabharata and many other mythological texts.
Jwala Devi Temple Darshan Timings
Devotees and tourists can visit from 05:00 am to 08:00 pm.
Jwala Devi Temple entry Fee
Entry Free.
Trekking in dharmshala
Located in the slopes of the Dhauladhar mountain range of the Himalayas, there are many trekking spots available for tourists who like adventure around Dharamshala. Some of the treks available near Dharamshala are easy and some of the toughest treks are there.
Winning treks are also available around Dharamshala, most of the treks start near McLeodganj. If you like hiking and trekking then there are many private institutes in Dharamshala and McLeodganj with the help of which you can hire a professional trekker for yourself by paying some fees.
Apart from this, this institute also plans for you the entire trek. Apart from this, you can get an organized and memorable trek plan prepared for yourself from these private institutions by paying a fixed fee. There are also some private institutes in Dharamshala which provide trekkers, trekking equipment and trekking facilities to you.
Triund trek near Dharamshala is considered to be the shortest and easiest trek, besides Triund, Kareri river trek, Guna Devi temple trek, Bhagsu trek and Indrahar Pass trek are most liked.
Camping in Dharamshala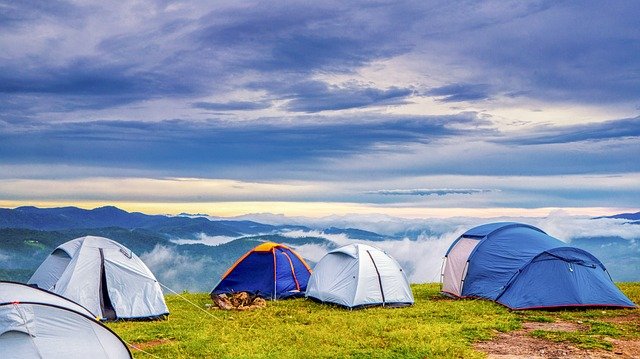 It is a different experience to spend the night lighting a campfire under billions of stars. If you want to experience such a wonderful experience, then you must visit Dharamshala located on the slopes of the Dhauladhar mountain range. Camping is a very famous and exciting activity done in the mountains located around Dharamshala.
For camping, tourists from most metropolitan cities visit Dharamshala and its surrounding areas for weekends. From time to time, many private institutes organizing adventure activities in Delhi, Chandigarh and Dharamshala make tour plans for camping in Dharamshala.
Private organizations located in Dharamshala provide food, accommodation, campfire, sports and other activities for you at the camping sites. If you can take your tent with you while tracking, then it can be a very good thing for you. Apart from this, if you want a private institution with a campsite to make a camping plan for you, then this can also be a good option, just you may have to spend a little more money in it.
If you are a backpacker or traveller, then you can enjoy trekking in Dharamshala at a very low cost. And if you want a private institution to organize camping for you, then for that you may have to pay from 3500 / – to 5000 / – per person. Apart from camping in Dharamshala, you can also enjoy a variety of adventure activities including rappelling, trekking and rock climbing etc.
Dharmshala International Film Festival (DIFF)
The first cinema hall in Dharamshala was built in 1935 by the British authorities for its entertainment. Thus the theatre built in Dharamshala is considered to be one of the first cinemas built in India. Even during the colonial period, Dharamshala held a special place in the British authorities in terms of arts and entertainment.
After the independence of India, many programs related to local culture started being organized throughout the year in Dharamshala, due to which Dharamshala got its own identity in the whole of India. In 2012, filmmakers and residents of Dharamshala, Ritu Sarin and Tenzing Sonam organized the Dharamshala International Film Festival (DIFF) to provide a platform to the history and local logo artists associated with the art and culture of Dharamshala.
This film festival is organized in Dharamshala every year. The best films from India and the world are screened during the Film Festival. Today, after so much time, due to the natural beauty and splendid host of Dharamshala, this film festival has started getting a different identity all over the world.
Currently, DIFF attracts the attention of producers, film lovers and film critics associated with the Indian and foreign film industry. The news agency called The Asian Age has called Dharamshala International Film Festival "India's Sundance". This film festival is organized in Dharamshala every year in October and November.
Norbulingka Institute Dharmshala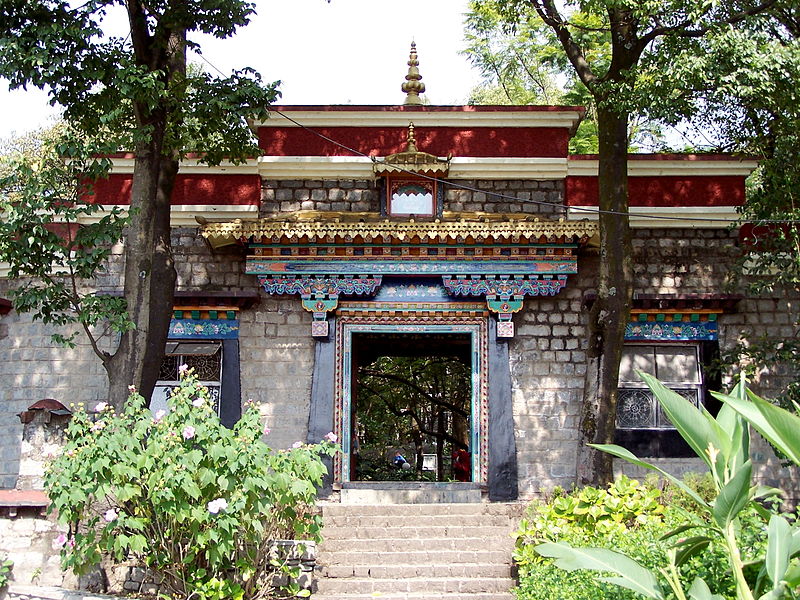 Kelsang and Kim Yeshi established the Norbulingka Institute in 1995 at Siddhpur, near Dharamshala in Himachal Pradesh. The main purpose of the creation of this institution was to preserve the literature and artistic forms of Tibet. The institute is also the summer vacation of the Dalai Lama. Norbulingka Sansthan, located just 07 kilometres from Dharamshala, is a popular education centre.
Built-in the traditional architecture of Tibet, this institute is very famous for its natural environment. There are gardens in the campus of the institute and the nearby river, small waterfalls and unforgettable views of the Dhauladhar mountain range make this place even more beautiful.
The main objective of the Norbulingka Institute is to preserve various paintings, idols and literature associated with Buddhist and Tibetan culture, as well as to employ refugees from Tibet. Items traditionally associated with Tibetan culture are also produced here, such as clothes and household items. If you want to understand the culture of Tibet closely, then a workshop is also organized to study in this institution.
The Norbulingka Institute also has two guesthouses, known as Norling Climate and Choner House, for visitors to stay. The institute has a two-storey 'Seat of Happiness Temple' (Deden Suglakhang), built-in 1985, for visitors and tourists to see, this temple is situated amidst the gardens of the Norbulingka Institute.
There are also 1,173 murals of Gautam Buddha and frescoes of all Dalai Lamas are also seen. Apart from this, the life of the 14th Dalai Lama is depicted in great detail here. The natural environment of the Norbulingka Institute is filled with favourable energy, the serene environment here gives you peace of mind.
Norbulingka Institute Timings
From 09:00 AM to 05:30 PM
(Sunday Holiday)
Norbulingka Institute Entry Fee
No admission fee is charged in the institute.
Naam Art Gallery Dharmshala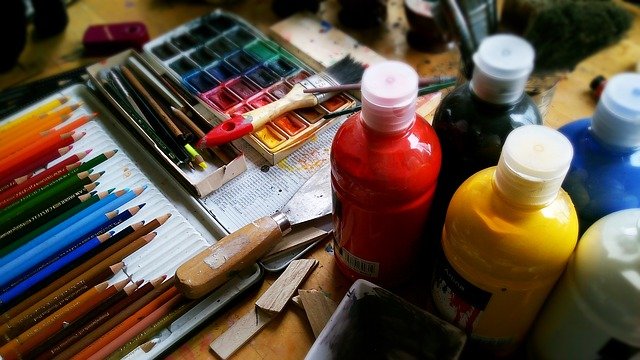 Naam Art Gallery is located just 02 km away from the main city of Dharamshala. Naam Art Gallery in Dharamshala is one of the best places for art lovers to spend time. The Nam Art Gallery was founded by Elizabeth Bushman. She comes to Dharamshala in 1987 after the death of her fellow painter AW Hallet in 1986 and then lives here.
Elizabeth Bushman is a German citizen and a professional painter. In this art gallery, he has displayed a large collection of his paintings as well as the paintings of fellow painter AW Hallet of England. You can also buy pictures of Elizabeth Bushman and AW Hallet from the Naam Art Gallery, besides, you can also buy pictures made by these two from their website online.
Naam Art Gallery Timings
10:00 AM to 07:00 PM
(Monday holiday)
Naam Art Gallery Entry Fee
Entry Fee – 10 / – INR
Chinmaya Tapovan Dharmshala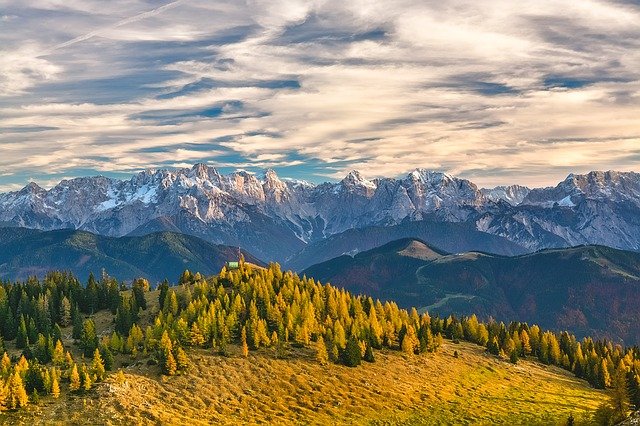 Chinmaya Tapovan is a famous spiritual ashram situated in the foothills of Kangra Valley. Chinmay Tapovan is a spiritual ashram located at a distance of just 08 km from Dharamshala as well as a famous tourist place. In 1977, Swami Chinmayananda established this ashram at a place named Siddhbadi located near Dharamshala.
According to ancient scriptures, many great sages and ascetics have done penance at a place named Siddhbadi, so this place is considered very sacred even from a religious point of view. Chinmay Tapovan has a beautiful view all around it, from here one can see very unforgettable views of the Dhauladhar mountain range of Himalayas.
In 1981, the residential Vedanta course in the name of Sandipani Himalaya was also started in the ashram at Swami Chinmayananda. At present, people of all age groups from all over the world come to the ashram every year to participate in spiritual camps. To increase the beauty in the ashram, huge trees, plants and aromatic flowers are also planted.
An outside Shivling is also built in the ashram complex, which is considered to be the major centre of attraction here, besides the temples of Hanuman Ji and Lord Rama are also built in the premises. There are 100 rooms for the stay of visitors in Chinmaya Tapovan, in which 300 people can stay together at a time. A spiritual bookstore remains on the campus. Apart from this, there is also an Ayurvedic dispensary and gaushala.
Chinmaya Tapovan Timings
One can visit this place from 7:00 am to 7:00 pm.
Chinmaya Tapovan Entry Fee
Admission is free.
Namgyalma Stupa Dharamshala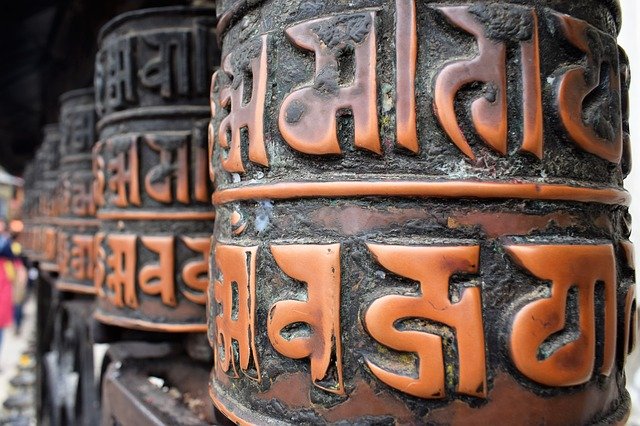 Namgyalma Stupa, located just 02 km from the main city of Dharamshala, is a Buddhist monument built in honour of the people who were martyred during the freedom struggle of Tibet. Constructed during a beautiful and natural environment, every year many Buddhist pilgrims come here to pray for the martyrs. The construction of the stupa is influenced by the architecture of the stupas to be built in the third century. The image of Shakyamuni Buddha is also depicted in a small chamber in the stupa.
Namgyalma Stupa Timings
8:00 AM to 5:00 PM
(Sunday Holiday)
Namgyalma Stupa Entry Fee
Free entry
(If you have reached here in this article, then I have a small request from you to share your suggestions related to this article in the comment box below, and if you see any deficiency or any wrong information, then also Tell. I keep posting information related to my travel on this website, if you like the information given by me, then you must subscribe to my website through your email, thank you)