Dharamshala 2022 | 20 Places to visit in Dharamshala 2022 | Dharamshala Tourist Places | Things to do in Dharamshala | Dharamshala Tourism | Part-01
History of Dharamshala
Dharamsala, the winter capital of Himachal Pradesh, is very famous all over the world because of the world's highest altitude cricket stadium. Dharamshala is a very beautiful city divided into two parts. The first part of Dharamshala is also called Kotwali Bazaar "Lower Dharamshala" and the second part is also called McLeodganj "Upper Dharamshala". 
The Dharamshala in Kangra Valley is 1457 meters (4780 ft) above sea level. Kangra is a city in Himachal Pradesh which used to be a part of Punjab during the colonial period and was also the district headquarters at that time. But in 1855 the British government shifted all administrative offices to Dharamshala. Even today the district headquarters of Kangra district is Dharamshala. Dharamshala is just 30 kilometres from Kangra. 
Although Dharamshala came into existence in 1849, before that the area around Dharamshala was ruled by the rulers of the Katoch dynasty for two millennia. In 1810 a treaty of a Jawalamukhi was made between the king Sansar Chand Katoch of the Katoch dynasty and Maharaja Ranjit Singh of Punjab, according to this treaty, the kings of the Katoch dynasty will henceforth be known as the vassals of the Kangra region. 
Even today the members of the Katoch royal family live in Dharamshala, the palace where the members of the royal family reside is called "Cloud end Villa". Till the arrival of the British, the area around Dharamshala was inhabited by the Gaddi tribe (a Hindu community who followed a nomadic and nomadic lifestyle). 
After the British took over the region, the settlements of the Gaddi tribe were razed and their fields and seasonal pastures were captured. In 1848, the British took control of Dharamshala and its surrounding area. In 1849, the British chose this place on the slope of the Dhauladhar mountain range of the Himalayas to build a military cantonment for the Kangra district of Punjab. 
At that time there used to be a Hindu Dharamshala in this area because of the same Dharamshala, this place was named Dharamshala. After the formation of a military cantonment, the civilian and military movement in Dharamsala had increased greatly, due to which a city council was formed in Dharamshala on 05 May 1867. The first city council meeting of Dharamshala was held on 06 May 1867 under the chairmanship of the British District Magistrate CF Elphinstone. 
After the formation of the city council, the facilities available in Dharamshala started increasing very fast. In 1896, facilities like electricity were also available to the people living here. In Dharamshala along with government offices, services related to business institutions, public institutions, transport and tourism were also being started. Gradually, facilities related to education and entertainment were also available in Dharamshala. 
Between the years 1926 and 1947, colleges and inter colleges started opening here. The first cinema hall of Dharamshala was also started in 1935. After India's independence, His Holiness the Dalai Lama made Tibet his headquarters in 1960. Due to the development work done over time, Dharamshala today has been successful in making a distinct identity in all fields such as business, literature, sports, entertainment, tourism and arts.
Dharamshala Cricket Stadium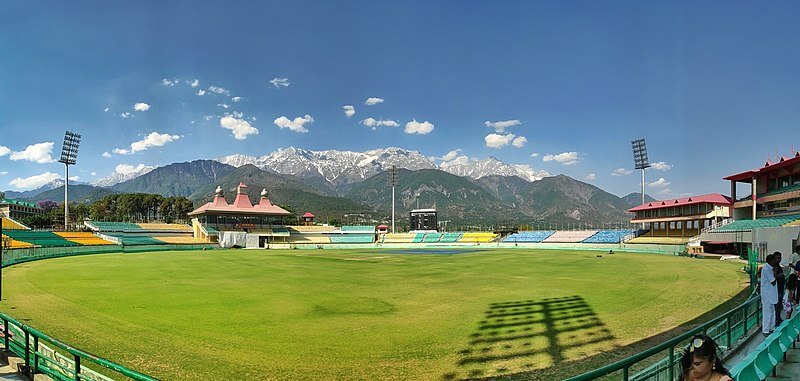 The world-famous cricket stadium of Dharamsala is named after Himachal Pradesh Cricket Association Stadium (HPCA). But most people prefer to call this stadium Dharamshala Cricket Stadium. Being the highest height cricket stadium in the world, this stadium has its own unique identity all over the world. 
The stadium located near the Dhauladhar mountain range of the Himalayas gives very beautiful views of the snow-capped mountains and this beautiful natural view also makes it the most beautiful cricket stadium in the world. Situated at an altitude of 1457 meters (4780 feet) above sea level, this stadium was used for Ranji Trophy matches and some domestic cricket matches in the early times. 
First, Dave Whitmore, former director of the National Cricket Academy of India, described the Dharamshala cricket ground as a suitable ground for hosting international cricket matches. The first international cricket team to play on this ground was Pakistan's cricket team. In 2005, the Pakistani cricket team played their first practice match against India-A at this ground. 
The first International ODI cricket match (ODI) was played between India and England on 27 January 2013 at Dharamshala Cricket Stadium. In this first match, England defeated India by 07 wickets. Apart from the one-day cricket match, the first test match of this ground was played between India and Australia from 25 March to 29 March 2017. 
Dharamshala Cricket Stadium has also hosted many IPL matches and besides this ground has also been the home ground of the Kings XI Punjab team. This cricket ground is open throughout the year for the general tourists to see, whenever you want, you can come to see this beautiful cricket ground. 
Dharamshala Cricket Stadium Timings
Dharamshala Cricket Stadium is open for tourists from 09:00 am to 06:00 pm. 
Dharamshala Cricket Stadium Tickets
The entrance fee to the stadium for tourists has been fixed at Rs 20 / -.
The Library of Tibetan Works and Archives (LTWA)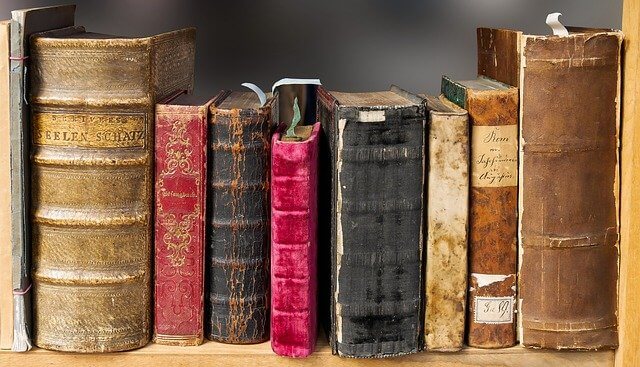 If you have a little interest in learning about the history and culture of Tibet, then you must visit The Library of Tibetan Works and Archives in Dharamshala. The Tibetan Library was established by the 14th Dalai Lama Tenzin Gyatso on 11 June 1970. It is considered to be the most important library for obtaining information related to Tibetan culture and history. 
When the Dalai Lama left Tibet and came to India in 1959, the books which he had brought with him are kept in this library. You can find many important books related to Tibetan history, culture, art and politics in the library to read, apart from this, very important Tibetan Buddhist manuscripts and archives are also included in this library. 
Here you have kept more than 80,000 books, manuscripts and many important documents. A collection of more than 600 'Thank, sculptures and artefacts associated with Buddhism have also been included in this library. The library also has a collection of 10,000 photographs. 
There is also a museum on the second floor of the library in 1974, which houses a collection of 12th-century artefacts and items. 
The Library of Tibetan Works and Archives Timings
The library is open from Monday to Saturday from 09:00 am to 05:00 pm. 
The Library of Tibetan Works and Archives Entry Fee
The membership fee of the library has been fixed at Rs 100 / -.
St. John in the Wilderness Church Dharamshala
St John in the Wilderness Church is an Anglican Church in Dharamshala, built in 1852, situated amidst dense cedar trees. This church was built in honour of Baptist John. Built-in Neo-Gothic architecture, this church is very famous for the beautiful workmanship done on the gloss. 
At the time of the construction of the church, Lady Elgin (Mary Louisa Lambton), Lord Elgin's wife, donated Belgian stained glass for the construction of this church, which was used in the windows of this church. The church comes under the Indian Church Trustee, Metropolitan Bishop of India CIPBC. The building of this church suffered very heavy damage due to an earthquake in 1905. 
It is said that 19,800 people were killed and many people were also injured in the 1905 earthquake. The bell tower of this church was broken in this earthquake. Later in 1915, the bell tower of this church was repaired and a new bell was installed. 
This new bell was sourced from England and was installed after the church premises. 
St John in the Wilderness Church Dharamshala Timings
The church is open from 07:00 AM to 06:00 PM. 
St John in the Wilderness Church Dharamshala Entry Fee
No entry fee is charged from tourists.
War memorial Dharamshala
The War Memorial at Dharamshala is built in honour of the brave soldiers of the Himalayan region who made the supreme sacrifice during the wars with China and Pakistan and laid down their lives while protecting the borders of this country. 
Three black marble stones installed in the memorial have inscribed the names of the brave soldiers of Himachal Pradesh who gave their lives while protecting the country in various wars. After independence, India had a total of four wars with Pakistan (1947, 1965, 1971, 1999) and had to fight a war with China in 1962. 
In all these wars, many soldiers of Himachal Pradesh laid down their lives while protecting the sovereignty of India. In addition to the wars in China and Pakistan, many Indian soldiers lost their lives while participating in joint peace operations. So far 1046 inscriptions have been written in this war memorial. 
Situated amid huge pines, this War Memorial is one of the main tourist places of Dharamshala. This war memorial has been constructed in such a way that it seems that this monument is showing continuity of life. 
The curved walls of the monument demonstrate that all the soldiers who received Veergati while protecting this country have become immortal in every Indian's mind forever. 
War Memorial Dharamshala Timings
Tourists can visit the War Memorial from 08:00 AM to 08:00 PM. 
War Memorial Dharamshala Entry Fee
The entry fee at the War Memorial for tourists has been set at Rs. 05 / -.
Gyuto Monastery Dharamshala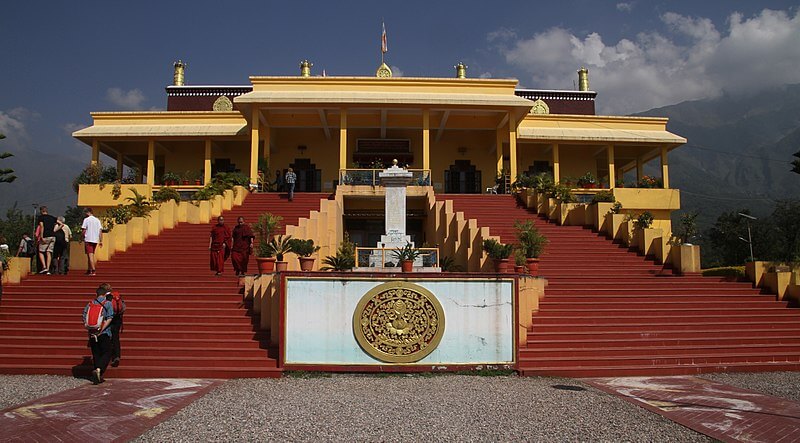 Situated just 08 kilometres from Dharamshala, Gyuto Monastery is considered to be the main religious place for Tibetan society and people who believe in Buddhism. The original Gyuto monastery was built in Tibet during the 15th century but when China invaded Tibet in the 20th century, Buddhist monks from Tibet rebuilt the Gyuto monastery in Dharamsala. 
Gyuto Monastery is known throughout the world for black magic and tantric lore. Here the monks, who learn black magic and tantra, believe that it can also be used for the good of the people. For people following Buddhism all over the world, the Gyuto Monastery is no less than a pilgrimage site, which is why followers of Buddhism visit the Guito Monastery throughout the year. 
On this day of Buddha Purnima, people who follow Buddhism come in large numbers to this monastery. The cultural beauty of Tibet and Buddhism is worth seeing in this monastery at this time of year. If you are coming here at the time of Buddha Purnima, then you must try and eat the local food of Tibet. 
Gyuto Monastery is a very powerful religious pilgrimage site that also has great historical significance among the people of Tibet and Buddhism. Black magic and tantric learning are considered to be the biggest centre of attraction of this monastery. 
The tantric practice performed here mainly includes practices like Yamantaka, Guhyasamaj and Chakrasamarwara. A very beautiful statue of Sakyamuni Buddha has also been installed in the temple premises and this statue has been made in such a way that whenever the sunlight falls on this statue a very rich golden colour spreads all around. 
Gyuto Monastery is built on the top of a mountain, this mountain top gives very beautiful views of the Dhauladhar mountain range of the Himalayas and river Beas. 
Gyuto Monastery Dharamshala Timings
From 07:00 am to 07:00 pm, devotees and tourists can come to see the Gyuto Monastery. 
Gyuto Monastery Dharamshala Entry Fee
Being a religious place, this monastery remains open throughout the week and no entrance fee is charged here.
Kangra Valley Dharamshala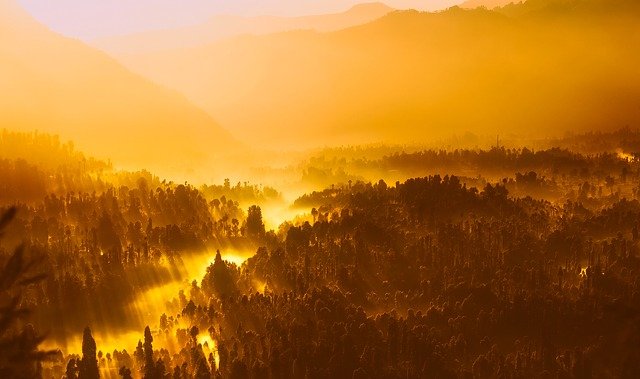 Located in the Dhauladhar mountain range of the Himalayas, Kangra Valley is considered to be one of the most beautiful tourist spot located near Dharamshala. It is just 28 kilometres from Dharamshala to Kangra Valley. The Kangra Valley in the Himalayas extends from the Dhauladhar mountain range to the Beas River.
The height of this valley is about 2000 feet from the sea level, being located in the slope of Dhauladhar Range, this valley also has twelve months of flowing waterfalls which help to enhance the beauty of this valley. Residents residing in Kangra Valley use Kangri language as their daily routine.
The Kangra Valley geographically marks the Dhauladhar Range and the Chamba range, reaching the highest peak of the range to 4863 meters (15,956 ft). The Masroor Rock Cut Temple, a potential contender for the UNESCO World Heritage Site, is also located in the Kangra Valley. Located in the Kangra Valley, this temple is also famous as the "Himalayan Pyramid".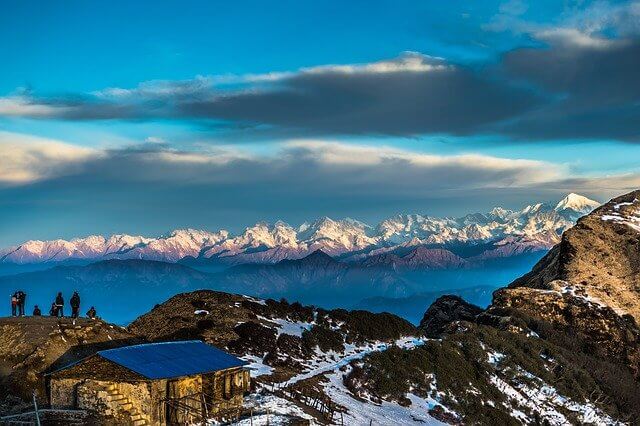 Dharamshala is a very beautiful city of Himachal Pradesh divided into two parts and is also a famous tourist destination. One part of Dharamshala is called Kotwali Bazaar (Lower Dharamshala) and the other part is called McLeodganj (Upper Dharamshala). 
Dharamshala is 5.5 kilometres away from McLeodganj. McLeodganj, despite being a suburb of Dharamshala, still maintains a distinct identity. After coming to McLeodganj most people find that this small town is a suburb of Dharamshala. Residents also call this city as McLeodganj or McLeod Ganj. 
This beautiful city has a large population of people from Tibet, so this place is also called "Chhota Lhasa" or "Dhasa". McLeodganj also remains the headquarters of Tibet's exiled government. During the colonial period, the city was named McLeodganj after the Lieutenant Governor of Punjab, Sir Donald Frill McLeod. 
Situated at an elevation of 2082 m (6831 ft) above sea level, McLeodganj is considered to be one of the most famous tourist destinations of Himachal Pradesh. Click here for more information on McLeodganj.
Dharmkot
Dharamkot is a very small and beautiful hill station located just 06 kilometres from Dharamshala. You can guess its beauty from the fact that in the present time, many foreign travellers have started living permanently at this place. 
The Dhauladhar Range visible from Dharmkot and the Kangra Valley is considered very famous. Apart from this, there are Vipassana Meditation Center, Dhamma Shikara and Tushita Meditation Center, where you can study Buddhism and practice Tibetan Mahayana tradition. 
Most of the tourists like to visit Dharmkot to see the natural scenery as well as to meditate here.
Tea Garden Dharamshala
By the way, the tea of Assam is very much liked all over India, and the big tea plantations there give a different relief to the eyes. In the same way, the tea garden of Dharamshala is also very famous. These tea gardens are counted among the smallest tea gardens of India.
Despite being small in size, these tea gardens are spread over several acres and this is the reason that tourists visiting Dharamshala do visit the tea gardens here. The aroma of tea leaves spread in the tea plantation gives you a pleasant experience.
These tea gardens give you very beautiful and beautiful views of Kangra Valley and Dhauladhar mountain range.
Masroor Rock Cut Temple Dharamshala – MasrurTemple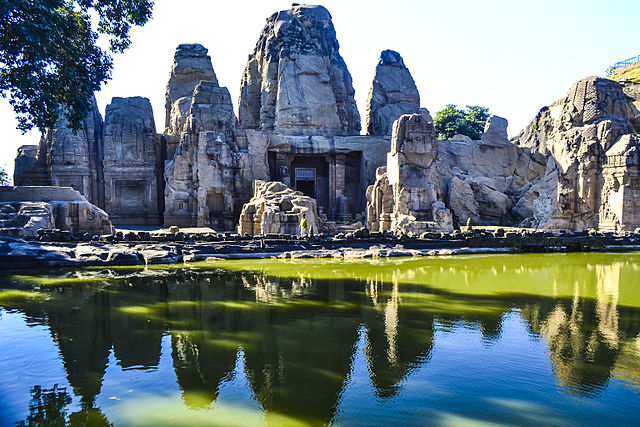 The Masrur Temple (Masroor Rock Cut Temple) built in the Kangra Valley near Dharamshala is an ancient Hindu temple built in the 8th century. Built-in North Indian civil architecture, this ancient temple is mainly dedicated to Lord Shiva and Lord ViBuilt-inf Hinduism.
According to experts studying the temples, the architects and artisans who built these temples had plans to build a very large temple complex but that plan remained incomplete for some reason. Currently, most of the idols installed in these temples have either been lost or damaged.
An earthquake that occurred here in 1905 is believed to be the biggest reason for the idols being damaged. A huge stone has been used in the summit construction of the Masroor temples and a source of holy water has also been built near the temple premises using the architecture of temple construction in Hinduism texts.
There are a total of three entrances in the temple, out of which two entrances remain incomplete. According to experts, the construction of a fourth entrance to the temple was also started, but its construction was not completed. There are many small temples around the main temple built here.
The sanctum sanctorum of the main temple has Hindu deities and Vedic texts engraved. In 1913, British officer Henry Shuttleworth brought these temples to the attention of archaeologists. He said during his visit that the site is a "Vaishnavite temple" and claimed to be the first European to visit these temples.
Then in 1915, Harald Hargreaves of the Archaeological Survey of India independently studied these ancient temples. From the 12th century to the 19th century, there was a large scale foreign invasion and social instability in the Indian subcontinent. During this time, there is no mention of Masroor temples in any kind of historical literature.
Some historians believe that at this time the area around Masroor and Kangra Valley was ruled by hill kings and small jagirdars. And for many years after that Mughal invaders ruled the place. During the last years of the 19th century during the colonial period, the British authorities started efforts to protect these temples.
The first official visit to study the Masroor temples was started in 1887. The site was already in a very damaged state and the earthquake in 1905 had also caused a lot of damage to this temple complex.
According to the legend associated with the temple, during the Mahabharata, the Pandavas built these temples during their secret exile. After some time, when the Kauravas came to know about them, then they left this place and hence the construction of these temples remained incomplete.
Masrur Rock Cut Temple Dharmshala Timings in Hindi ( Masroor Rock Cut Temple)
From 07:00 AM to 07:00 PM.
Masrur Rock Cut Temple Dharmshala Entry Fee in Hindi ( Masroor Rock Cut Temple)
There is no admission fee of any kind.
Kotwali Bazaar Dharamshala – Local Market in Dharamshala
Kotwali market is most famous in the local market of Dharamshala, residents also know this market by the name of Lower Dharamshala. Tibetan trinkets and warm clothes are very much liked by tourists in the Kotwali market. I
n this local market of Dharamshala, you will find many shops available for buying shawls, sweaters and cardigans and items associated with the daily routine. You can also buy a statue of Buddha made of crystal, stone and wood etc.
from the Tibetan market here. Apart from the Buddha statue, you can also buy carpet, Tibetan posture and warm clothes worn in Himachal.
Dharamshala local food – Local Food in Dharamshala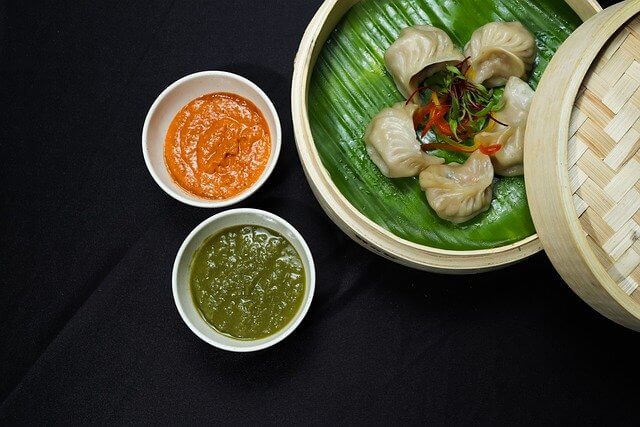 With the weight of being a famous tourist destination, you will find many restaurants, restaurants and street food options available to eat in Dharamshala. There are a lot of options available for you to eat North Indian food, South Indian food and Punjabi food, but fast food such as Thupaka and Momoz are very tasty.
If you are going to visit Dharamshala then you must try the local food here like Tukdia Bhat, Thupka, Shapta, Momoz, Sweet, Maggi and Tea, Dham, Clay Oven Pizza, Bhagsu Cake and Aloo Fing Sha etc.
Some of these food items are non-vegetarian also, so if you are vegetarian then before eating any of these, ask the food maker which of these things are vegetarian and which are non-vegetarian.
Hotel in Dharamshala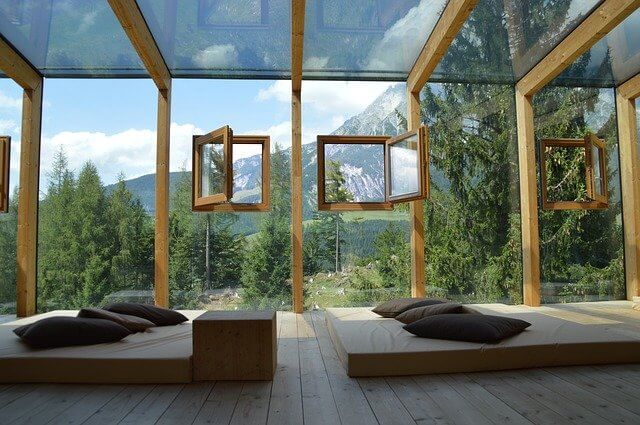 Dharamshala is a major tourist destination of Himachal Pradesh. Millions of tourists visit Dharamshala throughout the year. Apart from being a famous tourist destination, Dharamshala is also the district headquarters of Kangra district. 
Being a famous tourist place and district headquarters, Dharamshala has a lot of hotels for tourists to stay. If you want to visit your Dharamshala, you can go to Dharamshala by booking a room for yourself from the online hotel booking website. 
The hotel room booking website offers tourists a lot of attractive offers to stay in Dharamshala throughout the year. You can book a room in your hotel by comparing rates and reviews on different websites. If you have time, you can book a good room for yourself by reaching Dharamshala.
Best time to visit Dharamshala
By the way, you can visit Dharamshala at any time throughout the year. Dharamshala does not have a very hot summer, from April to June, the temperature here ranges from 22 ° C to 35 ° Celsius. From July to September, the monsoon season prevails in Dharamshala, at this time the beauty of the place is worth seeing.
There is cold weather from October to March and at this time you can get snowfall here too. Now it depends on you when you plan to visit Dharamshala.
How to reach Dharamshala
How to reach Dharamshala by Flight
The nearest airport to Dharamshala is Gaggal Airport. The distance from Dharamshala to Gaggal Airport is just 13 kilometres. Flights are operated from major cities of India to Gaggal Airport.
If you want, Dharamshala can be reached easily from Pathankot Airport. The distance from Dharamshala to Pathankot is only 90 kilometres. From Gaggal and Pathankot you will get regular bus and taxi services to Dharamshala.
How to reach Dharamshala by Train
Pathankot railway station is the nearest railway station to Dharamshala. The distance from Dharamshala to Pathankot railway station is just 86 kilometres. Pathankot railway station is very well connected to major railway stations in India.
From Pathankot, you can reach Dharamshala very easily by bus and taxi. Dharamshala is just 22 km from Kangra railway station but regular railway service is not available at any major railway station.
How to reach Dharamshala by Road
Government and private bus services are regularly available from Dharamshala to Delhi, Punjab and Haryana. Dharamshala is very well connected to Delhi and many cities of North India by road.
Most of the buses going to Dharamshala go to the main bus terminal of Lower Dharamshala. But some buses of Haryana Road Transport Corporation (HRTC) also go to the main chowk of Upper Dharamshala (McLeodganj).
Apart from the bus, you can easily reach Dharamshala by taxi and private vehicle.
(If you have reac