Ranthambore Fort 2021 | Ranthambore Fort History | Rajasthan Tourism | Forts in Rajasthan
Everyone in the world will know about Ranthambore Wildlife Sanctuary, located 11 km from Sawaimadhopur district of Rajasthan. This Ranthambore Wildlife Sanctuary is very famous due to the tigers living here, and this wildlife sanctuary is also the main center of attraction for the tourists visiting here.
But do you know about the huge historical fort located in this wildlife area? Very few tourists who come here know that this place is also one of the biggest forts of Rajasthan, which was once the favorite hunting ground of the Maharajas of Jaipur. And before that, this fort was the center of the political and historical background of Rajasthan.
So, before visiting the wildlife sanctuary, let's find out the history of this historic fort of Ranthambore.
Ranthambore Fort History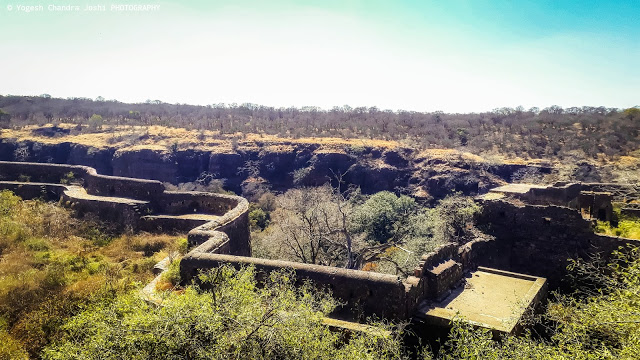 Five more forts along with Sawai Madhopur (Kumbhalgarh, Jaipur, Jhalawar, Chittorgarh, Jaisalmer) were recognized as UNESCO World Heritage Sites in the 37th meeting of the World Heritage Committee in 2013.
According to the researchers and archaeologists of the fort, the construction of this fort started during the rule of Sapaldaksha in 944 AD. Some other historians believe that the construction of this fort began in 1110 AD during Jayant's reign. 
And the Amber Development and Management Authority of the Government of Rajasthan has raised the possibility that the construction of the Ranthambore fort was started in the middle of the 10th century at the time of Salpalaksha and its construction work continued for some centuries.
Initially, this fort was not named Ranthambore. This fort was called Ranastambha or Ranastambhapura, in the 12th century, the inclination of King Prithviraj I of Chauhan dynasty moved towards Jainism, at the same time Jain saint Siddhesunsoori also declared this place as a holy pilgrimage place for Jains.
In 1192, there was a war of Tarain between the Hindu Emperor of India, Prithviraj Chauhan and the foreign invader Mohammad Gauri, during that war, Mohammad Ghori fraudulently defeated Prithviraj Chauhan, later Prithviraj Chauhan's son Govind Raj made Ranthambore his capital. 
Apart from Govind Raj, son of Prithviraj Chauhan, many other Hindu kings and Muslim rulers also ruled the fort at this place, among them Rana Sanga, Maharana Kumbha, Hammir Dev Chauhan, Rao Surjan Hada and Mughal rulers Sher Shah Suri, Alauddin Khilji Also ruled this fort from time to time. But the reign of Rana Hammir Dev Chauhan is considered to be the most famous reign of Ranthambore fort. 
The reign of Hammir Dev lasted from 1282 AD to 1301 AD, Ranthambore fame rose all around during the reign of Hammir Dev's 19 years, Hammir Dev made a total of 17 wars during his reign, out of which he won 13 wars. When Rana Sanga of Mewar was wounded in the battle of Khanwa, Rana spent some time in this fort for treatment.
Before the rule of Hammir Dev, there were many external attacks on the Ranthambore fort. And this fortress continued to bear the brunt of the war in the coming times, the Rajput and Mughal rulers continued to attack this fort. From Qutbuddin Aibak to the time of Mughal ruler Akbar, this fort was attacked many times. 
The beginning of these attacks began in 1192 after Prithviraj Chauhan's defeat with Muhammad Ghori in the war, which continued continuously till the 18th century. After the death of Prithviraj, 1209 Chauhano attacked Muhammad Ghori for taking possession of this fort and again took possession of this fort. 
After this war, there were several attacks on it respectively, Iltutmish, the ruler of Delhi, invaded it in 1226, then after the death of Iltutmish, Razia Sultan took over it in 1236, Balban in 1248-58 also invaded many here. In 1290-1292, Jalaluddin Khilji also attacked the fort, in 1301, Alauddin Khilji made two more attacks besides this, Ferozeshah Tughlaq in 1325, in 1489 in the king of Malwa. Md Khilji, Maharana Kumbha of Mewar in 1529, Bahadur Shah of Gujarat in 1530 and Sher Shah Suri in 1543 were attacked. 
In 1569, Akbar attacked and collaborated with the kings of the princely state of Amer and made an alliance with Rao Surjan Hada, the then ruler of the Ranthambore fort. In the 17th century, this fort fell under the Kachwaha Maharajas of Jaipur and after that, the fort remained part of the princely state of Jaipur till the independence of India. 
Over time, this fort and the area around the fort became the favorite hunting ground of the Maharajas of Jaipur. In the 18th century, Sawai Madho Singh started to develop the village around Ranthambore by pleading to the Mughal rulers, which also strengthened this fort and with time the name of these villages was changed to Sawai Madhopur. The fort has been under the control of the Archaeological Survey of India since 1964.
Best Places to visit in Ranthambore Fort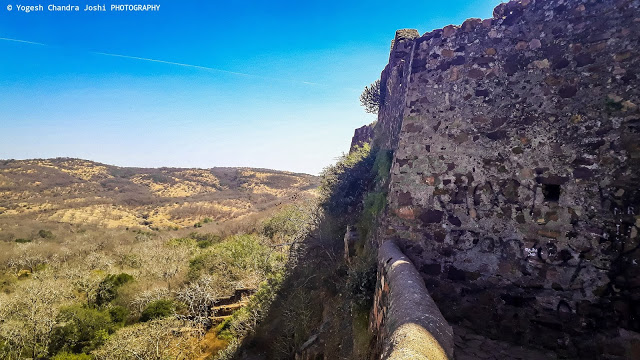 Ranthambore Fort
By the way, the tourist here brings this idea in his mind, that after reaching here, he has to do a jungle safari of Ranthambore Wildlife Sanctuary, and thinks that only a tiger can be seen once. 
But if you come here and do not see the Ranthambore fort, then you leave a lot, otherwise, I have tried to tell you the history of this fort well, but if you come here and see this fort then you Will like it more and you will be able to feel the history of this fort. This fort built-in the middle of a dense forest is not visible to you until you reach near it. 
The height of this fort from the sea level is only 1578 feet, it is not very difficult to climb the fort. Once you reach the top of the fort, you will see very beautiful views of Ranthambore Wildlife Sanctuary, which you will definitely, want to imprison in your camera.
Ranthambore Fort – UNESCO World Heritage Site
In 2013, Ranthambore fortress in Sawai Madhopur district was recognized as a UNESCO World Heritage Site in the 37th meeting of the World Heritage Committee. Due to the wildlife sanctuary located here, today this place has a distinct identity in the entire world. 
This fort, which is more than 1000 years old, has a very rich historical heritage inside it. When you enter the fort, first of all, you enter this fort from Naulakha Gate, after that, you will see historical heritage like Battis Khamba, Annapurna Temple, Jain Temple, Rani Haveli and Rajasthan's oldest Ganesh temple respectively.
Badal Mahal Ranthambore Fort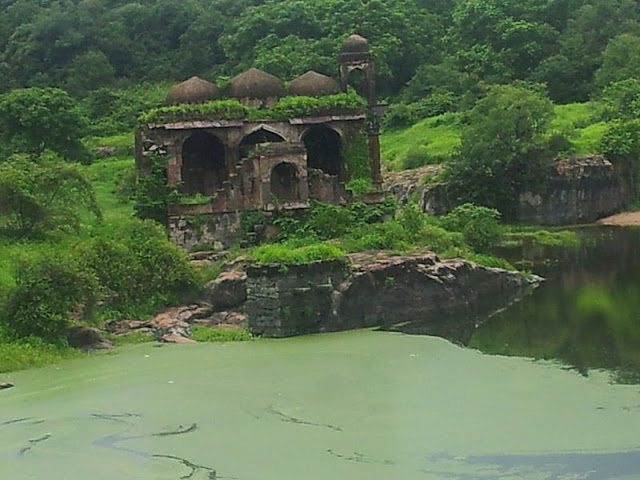 The Badal Mahal built by Rana Hammir Dev has transformed into ruin over time, but still displays the grandeur of this fort, 84 pillared Chhatris built by Hammir Dev still remain here. Rana Hammir Dev used to address his meeting from this place. This palace, known as "Palace of Clouds", is located in the northern part of the fort.
Temple in Ranthambore Fort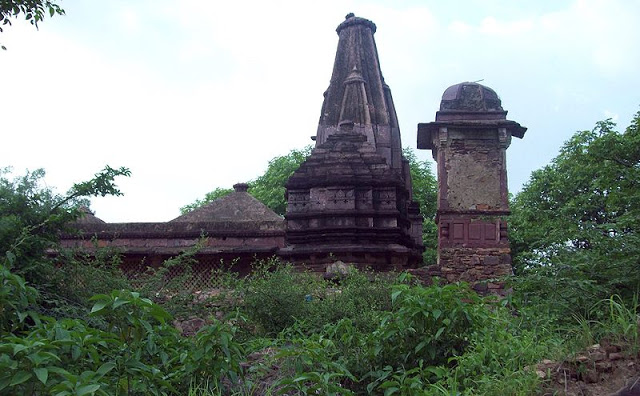 Inside the Ranthambore fort, you can see temples associated with Hindu and Jainism. In this fort, three Hindu temples of Lord Shiva, Ganesh Ji, and Ramlal Ji are seen. These temples have been constructed in the 12th and 13th centuries from the red stone found here in the nearby Karauli district.
Inside this fort, you get to see some temples associated with Jainism, inside the fort Jain temples of Lord Sambhavnath and 5th Jain Tirthankara Lord Sumatinath is being constructed.
Trinetra Ganesh Temple Ranthambore Fort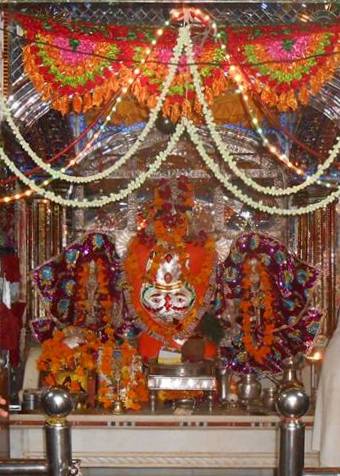 Trinetra Ganesh Temple located in the rear of Ranthambore Fort is also famous as "Rantabhanwar" among the devotees of this temple, according to the belief that this ancient Ganesh temple is one of the oldest temples in India. Lord Ganesha sits in a three-eyed form in this temple. 
Due to which they are called Trinetra Ganesh Ji, including this idol of Ganesh Ji, a total of four more Ganesha idols are present in different places in this country. According to the story associated with this temple built by Rana Hammir Dev, Lord Ganesha appeared in the dream to Lord Rana Hammir Dev when the foreign invader Alauddin Khilji surrounded this fort for several months to take possession of this fort. 
And asked King Hammir Dev to worship him, then according to the place mentioned in the dream, when Rana Hammir Dev reached that place, he found the Ganesha Lord statue there. Then Rana Hammir Dev gets Lord Ganesha's temple built at that place.
Such is the faith of the devotees about this temple that if any auspicious work takes place within the Hindu family, whether it is marriage or childbirth, all the invitations of this temple of Lord Ganesha come for the whole year, devotees believe that By doing this, God himself will come to give them his blessings and all his wishes will be fulfilled. Even today, in this temple, there are always lots of letters coming by post and courier.
The third eye of Lord Ganesha, who sits in the form of Trinetra Ganesha, is considered to be a symbol of knowledge, in this temple, the Lord is seated with his entire family, both his wives Riddhi and Siddhi, as well as both sons of God auspicious and beneficence. There are temples. This is the only temple in India where Lord Ganesha sits with his entire family.
There are four such Ganesh temples in the whole country. Among them, Trinetra Ganesh Ji located in Ranthambore is the first place. Apart from this Ganesh temple, the rest of the Ganesh temple is located in other states of the country including Siddapur Ganesh Temple in Gujarat, Avantika Ganesh Temple Ujjain and Siddapur Sihor Temple located in Madhya Pradesh. 
Every year on Bhadrapad Shukla Chaturthi, a huge fair is organized in the temple, in which lakhs of Ganesh devotees come to see God.
Trinetra Ganesh Temple Timings
In the Trinetra Ganesh temple, the darshan and aarti times are daily at 6 am, 9 am, 6:30 pm and 8 pm.
Trinetra Ganesh Temple Entry Fee
Entry Free.
Padam Talab Ranthambore Fort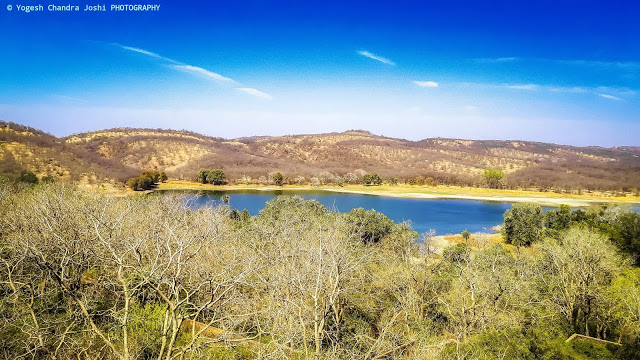 Padam Talab is the largest lake of this wildlife sanctuary, this lake is surrounded by dense forests and mountains, much beautiful vegetation is seen around this lake. Being situated in the middle of the forest, you get to see wild animals here in the evening. If you have good luck, then you can also get to see Chinkara here in the evening. This pond is built in Ranthambore Tiger Reserve and opens twice a day in the morning and evening.
Jogi Mahal Ranthambore Fort
In the 17th century, Ranthambore came under the suzerainty of the Jaipur royal family, after which the kings of Jaipur started developing this place for their hunting and recreation. The Jogi Mahal, built near Padam Talab and painted in red, was also built by the Maharaja of Jaipur as his hunting ground.
The royal house of Jaipur used this place for its recreation and hunting for years, currently, the forest department has converted this place into a rest house of tourists. There is an old banyan tree near Jogi Mahal is said to be the second-largest banyan tree in India.
Rajbagh Ruins Ranthambore Fort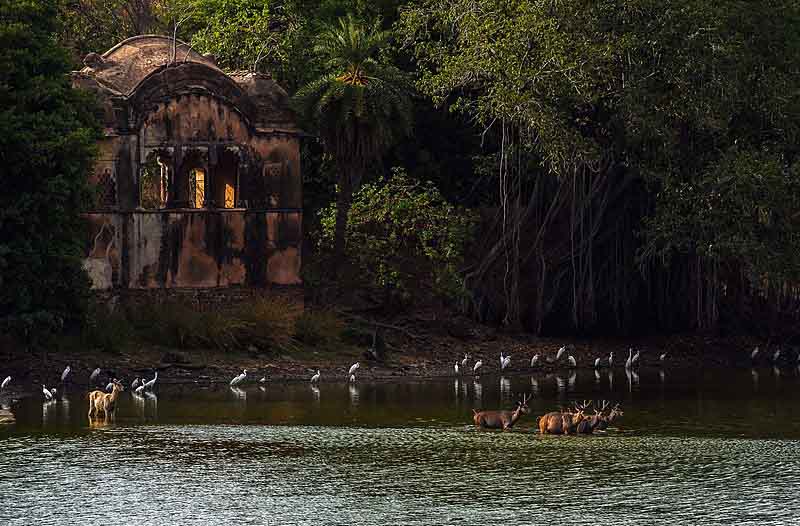 Big dome and broken towers, old stairs and the natural structure of the palace create scenes that are reflected in your mind. When you go to see the ruins of Rajbag, you get to see some scenes which you normally see in films.
The ruins of Raj Bagh lie between Padam Talab and Rajbagh Talab and today it has completely turned into ruins. Rajbagh is situated in the middle of Ranthambore National Park, due to which the natural environment around these ruins is such that you cannot even imagine being in such a place.
Hotels in Ranthambore
Ranthambore is just 11 kilometres from Sawai Madhopur, being a big city, there are plenty of options available for you to stay and stay. Many hotel booking websites will be found on the Internet, on which you can easily book hotels here.
If you live in your time, you can reach Sawai Madhopur and arrange to stay in the hotel or Dharamshala itself. If you like to come on weekends then there are a lot of good resorts in the village around Ranthambore, although these can be a bit expensive a great one for you to spend a good time with your family, loved ones or friends. There may be an option.
Best time to visit Ranthambore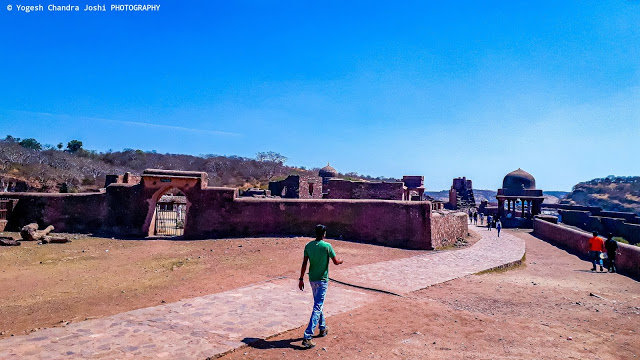 Ranthambore fort is open all the year, but if you are coming only to see the fort, then you can come here anytime except during the summer season. But if you are also visiting Ranthambore Tiger Reserve, then you have to keep in mind that Ranthambore Wildlife Sanctuary is closed during the monsoon season, after that it remains open from October to June. The possibility of seeing wild animals or tigers during the winter season is useful. Therefore, if you come to Ranthambore Tiger Reserve after March, then the chances of seeing tigers here are greatly increased.
Ranthambore Fort Timings
06:00 AM to 06:00 PM
Ranthambore Fort Entry Fee
Entrance fee for tourists – INR 15 / –
Entrance fee for children – INR 10 / –
How to reach Ranthambore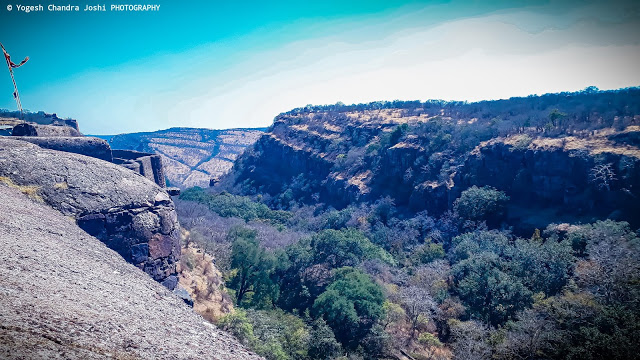 How to reach Ranthambore by Flight
The nearest airport to Ranthambore Fort is Jaipur Airport, just 180 kilometres from Jaipur to Ranthambore, you will get a taxi or bus from Ranthambore to Jaipur. 
How to reach Ranthambore by Train
The nearest railway station of Ranthambore Durg is Sawaimadhopur, which is only 11 kilometres from Ranthambore. Sawai Madhopur railway station is very well connected to India. You will also get a taxi service from Sawai Madhopur to Ranthambore. 
How to reach Ranthambore by Road
To come to Ranthambore Durg, you have to first come to Sawai Madhopur, and due to Sawai Madhopur being a district headquarters, the city is connected to the major highways of the country. From Jaipur and Kota you will get bus and taxi options for Sawaimadhopur at all times. After reaching Sawai Madhopur, you can reach Ranthambore fort by taxi or local bus service.
Nearby places to visit Ranthambore Fort
Sariska National Park, Ranthambore National Park Tiger Safari, Ranthambore National Park, Kota, Keoladeo dense bird sanctuary, Amer Fort, Pushkar,  Jaipur Part-01,  Jaipur Part – 02, Jaipur Part -03,  Elephant Village, Govindev Ji Temple, Jhalana Leopard Reserve besides Uttar Pradesh is also a nearby state where Mathura, Vrindavan, and Agra can also be visited.
(If you have reached here in my article, then you have a small request from me to share your suggestions related to this article in the comment box below, and if you see any deficiency or any wrong information, then also definitely Tell. I keep posting information related to travel on this website, if you like the information given by me, then you must subscribe to my the website through your email, thank you.)