RANTHAMBORE NATIONAL PARK | RANTHAMBORE NATIONAL PARK TRAVEL GUIDE | RANTHAMBORE TIGER RESERVE
Ranthambore Tiger Reserve
The history of Ranthambore fort is thousands of years old, Ranthambore fort has been a part of the historical turmoil since its construction, this fort is important as the dense forest spread around it has always protected this fort from outside attacks. 
Even today, the forest spread around the Ranthambore fort is famous for its vast flora and population of vast wildlife.Ranthambore National Park has not had much time in existence. 
The fame of Ranthambore National Park can be gauged by the fact that instead of the fort on which this national park is named, today more tourists come to see this tiger reserve. Once a favorite hunting ground of kings, this national park is nothing less than a paradise for wildlife lovers of the entire world today. 
This place is considered to be the safest to increase the population of tigers that are going extinct, with large channels like National Geography and Discovery Channel making documentaries on the wildlife here for years. So let's see what is it in this national park that makes it so famous and important.
Ranthambore National Park History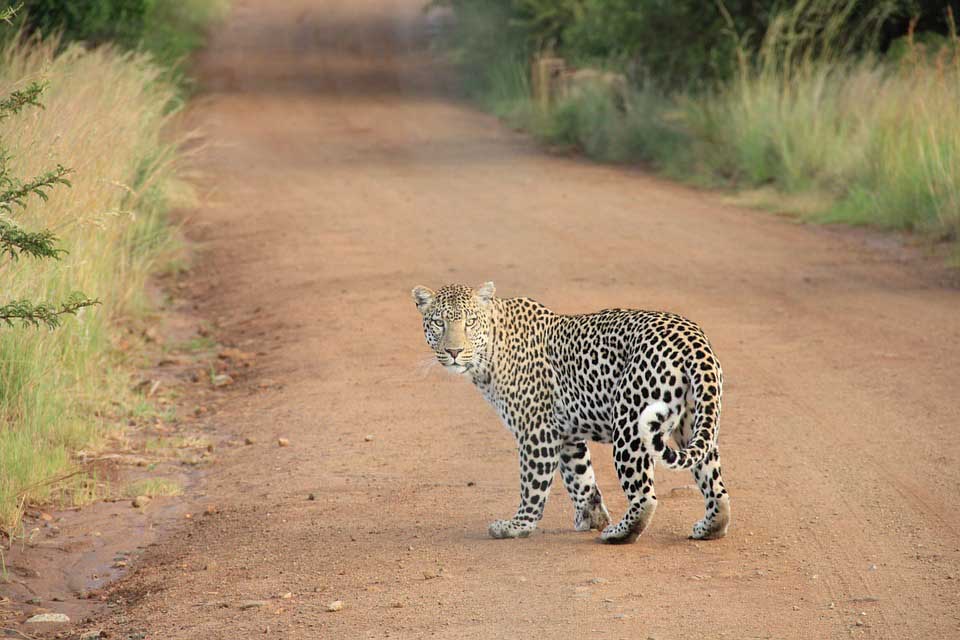 Ranthambore National Park is spread over 282 sq km, after adding its buffer zone, this park grows to 392 sq km. Being a mountainous region, this national park is 200 to 500 meters above sea level. 
India became independent in 1947 and Sawaimadhopur was merged with India, in 1955, this place was made Sawaimadhopur game sanctuary by the Government of India, but at this time tiger hunting remained in the entire country. And this place was also not untouched by tiger hunting. 
Due to the constant hunting of tigers, the existence of this magnificent animal was in grave danger. There was a time when the tiger population in the whole country was reduced to only around 1000 tigers in 1970, in April 1973, the Government of India announced Project Tiger to save tigers. 
Ranthambore was made part of Project Tiger in Sawaimadhopur, India has a total of 50 tiger reserves. There were a total of 37 tigers left in Ranthambore Tiger Reserve in 1973, but after the relentless efforts of so many years, there are a total of 70 tigers in this Ranthambore National Park. 
On 1 November 1980, this tiger reserve was converted into a national park. The Ranthambore National Park was expanded in two parts, in which the name was expanded to the Sawai Man Singh Sanctuary in 1984 and the other was expanded to the name Keladevi Sanctuary in 1991.
Ranthambore Tiger Reserve
Wildlife in Ranthambore National Park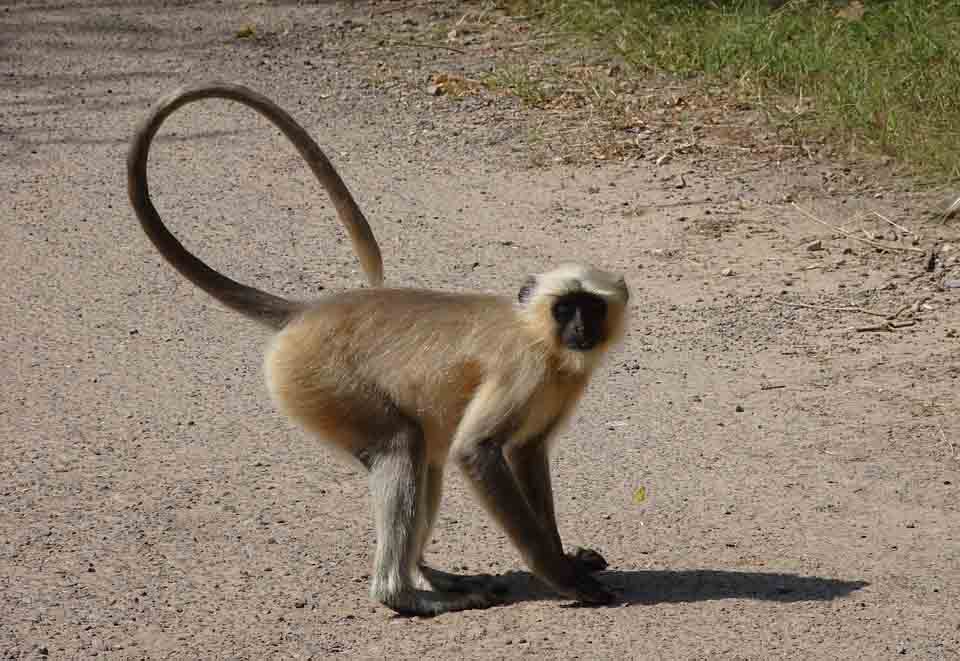 Known for the Bengal tiger, this wildlife sanctuary is not only known for tigers. A wide range of fauna is seen in this forest, being a wildlife sanctuary, hunting in this area is completely prohibited.
Its advantage was given to the animals living here and today due to this, we get to see many other magnificent wild animals besides tigers here. Other fauna found here are the main sloth bear, Indian leopard, sambar, rhesus macaque, nilgai, southern plains grey langur, wild boar, striped hyena, crocodile, chital, besides reptiles and many species of migratory birds.
Ranthambore National Park
Flora of Ranthambore National Park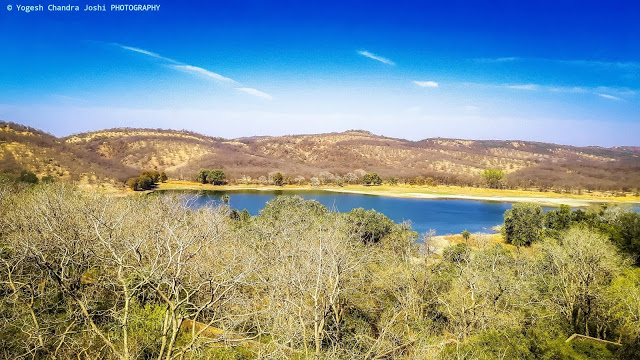 Most of the land area of Rajasthan is either desert or plains, due to the Aravalli ranges in the rest of the region, some areas are also mountainous. Ranthambore National Park located in Rajasthan is mainly a hilly area but still due to this area being close to the Thar Desert, one has to depend only on the monsoon rains. 
Throughout the year, there is only monsoon rainfall, so most of the vegetation found here is dry deciduous. Despite having so many geographical differences, this national park is very rich in flora, due to which the environment here is favourable for the animals living here. 
In this entire forest area, the place of water for wildlife is naturally situated in the lake, pond, waterfalls, steep hills, plateau, narrow valleys, due to which there is no shortage of water throughout the year. It is estimated that more than 300 species of flora are found in this national park. 
In which the plant named Dhok '(Anogeissus pendula) is found most commonly in this forest area, apart from this forest area there are many such as Banyan, Peepal, Neem, Mango, Jamun, Ber, Tamarind, Babul, Gurjan, Gum, Kadam and Keekar. 
Tree plant species are found. Many of this flora is rich in medicinal properties and is used in the catering of many wildlife. Banyan tree located near the Jogi Mahal is the second banyan tree in India. The Ranthambore Tiger Reserve is also home to a plethora of beautiful plants of lotus and lily that grow in ponds and lakes.
Wildlife of Ranthambore National Park – Tiger in Ranthambore – Machli Tiger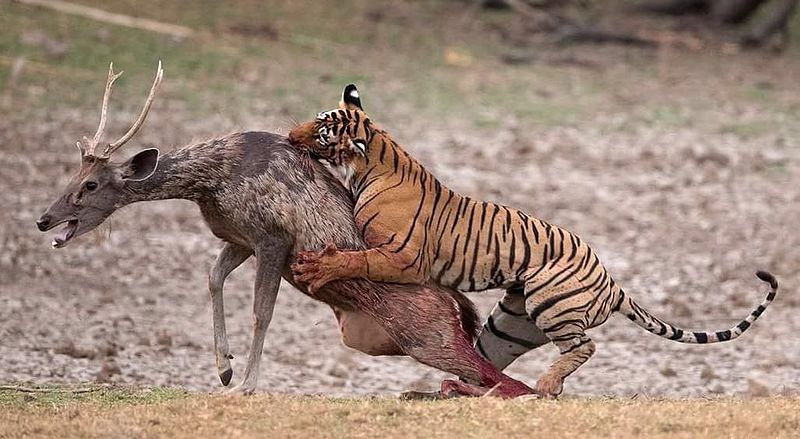 Ranthambore National Park is also known as Ranthambore Tiger Reserve. Today the tiger population in this national park has been around 70 and it is continuously increasing. In 1955, this place was encroached upon by a sports sanctuary.
Since then, tourists have increased in this place and the population of the village around the park has also started increasing and its adverse effect will be on the tigers living here. The hunting of tigers started increasing in this forest, which led to a huge reduction in the population of tigers living here.
To save the tigers in 1973, the Government of India started Project Tiger and initially, two areas of 60 miles were created for the park, after which 1980 Ranthambore National Park was dredged and the area of the park was expanded.
According to the census conducted in 2005, the tiger population was only 26, which was very low in proportion to the tiger count made in 1982, at that time the tiger population was 44. It is estimated that in this 2008, there were 34 tigers in this park, including more than 14 tiger cubs.
To prevent poaching in the park, a lot of hard work was being done by the staff and officers of the Forest Department. They were encouraged to move away from the residents of rural areas living in the National Park, as well as surveillance cameras were also installed in the forest area so that the poachers could be seen.
After some time, the efforts of the forest department started showing the effects of tiger numbers. The Government of India made a total budget of US $ 153 million for Project Tiger. Ranthambore Forest Department got a major breakthrough when they were selected for the Sariska Tiger Reserve Program.
Wing Commander Vimal Raj airlifted the first tiger (Dara) from Ranthambore to Sariska on 28 June 2008 with the help of the Mi-17 helicopter. But this male tiger died accidentally on 15 November 2010 by eating poison.
The tigers here contribute a lot to the famous Ranthambore National Park. Let me give you a little information about the most famous tigress of this national park Machli(T-16). Machli(T-16) was born in the month of monsoon in 1997, this tigress had a mark of fish shape on her left ear, due to which it was named Machli(T-16). Machli(T-16)started hunting at the age of 2, and soon took possession of her mother's territory. 
After some time, the fish captured most of the area of Ranthambore National Park. Ranthambore palace, lakes, ponds, and almost the entire forest came under his territory. It is said that 350 square miles of forest was occupied by Machli. 
Machli also has some world records such as a tiger being able to occupy an area for only 7-8 years on average, but Machli was the only tigress in the world who ruled the forests of Ranthambore National Park for 10-15 years. The average age of a tiger is 16–17 years but when Machli died on 18 August 2016, it was the oldest tigress of 20 years. 
Machli nicknames were also kept such as "The Lady of the Lake" and "Crocodile Killer". The big wild life channel has made a documentary on this tigress, Machli is also famous as the world's most photographed tigress. 
Between 1998 and 2009, the Government of India earned the US $ 100 million rupees with the help of Machli, the Government of India also awarded Machli the "Lifetime Achievement Award" for its contribution to tourism and forest conservation, and also A commemorative postal cover and postage stamp was also issued by the Government of India in honor of this tigress. 
Apart from Machli(T-16), other magnificent tigers have made their mark in this national park – Ustad (T-24), Sundari (T-17), Dollar (T-25), Jhumru (T-20), Sitara (T-28), Mala (T-39), Jagali (T-41), Bina One and Bina Two.
Places to Visit in Ranthambore National Park
For tourists visiting here, it is most important that in which zone they should do a forest safari to be held in this park. To increase the chances of seeing a tiger, Ranthambore National Park is divided into two parts: the core area and buffer area. 
Both these areas are also divided into 10 zones. Of which zones 1 to 5 fall in the core area and zones 6 to 10 fall in the buffer area. The possibility of seeing tigers in the buffer area spread around the core area is quite useful, but natural beauty can be seen in Zone 6. 
However, there has been an increase in the number of tigers in these years, due to which the tigers can be seen hereafter a short time. I will give you all the information related to Jungle Safari in Ranthambore National Park in a separate blog.
Kachida Valley Ranthambore Tiger Reserve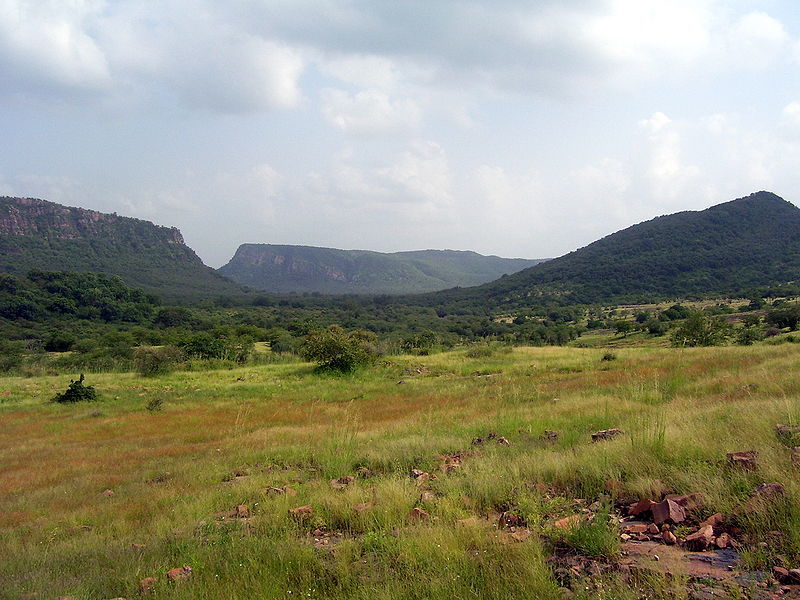 Situated in the middle of small hills Kachida valley is situated on the outskirts of this park, to reach here you have to come with the help of jeep safari. This area of Ranthambore National Park is full of greenery all around, in this area you get to see panthers and bears besides tigers. 
This valley is one of the favourite hunting spots for large animals in this forest. If you have good luck, then you can also see a confrontation between Tiger and panther here. Although the panther population is more in this area, still the tiger occupies this area.
Hot Air Balloon in Ranthambore National Park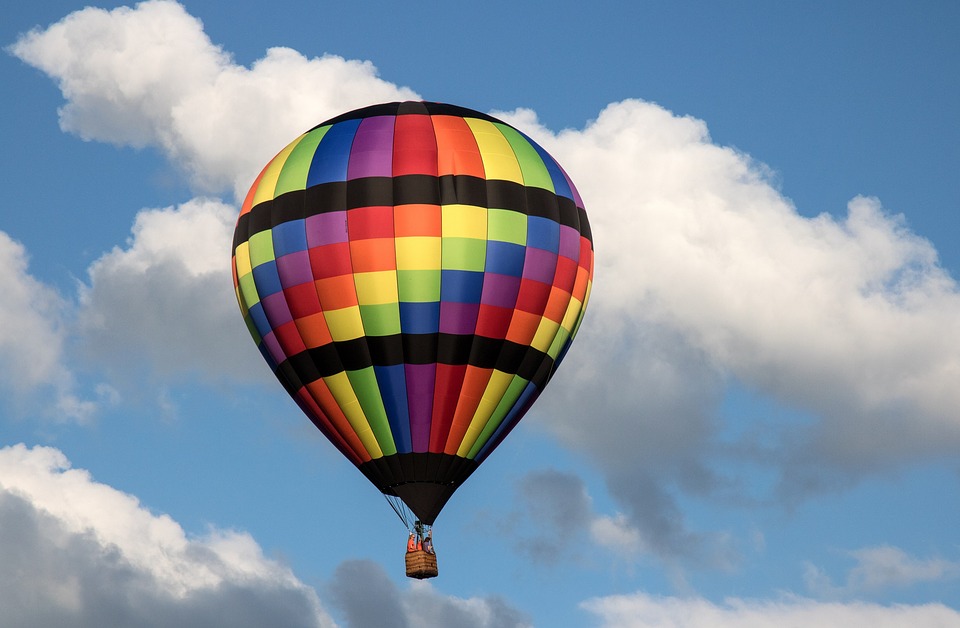 This exciting activity is entirely run by a private institution, it can be a good option for tourists to visit the Ranthambore Tiger Reserve. This one-hour hot air balloon trip may be memorable for you.
Seeing the beauty and wildlife of this national park from the sky can be a different experience. You are flying high in the sky and if you see a herd of deer or chital running down, then you will definitely want to spend this moment in your camera. Take binoculars with you to see wildlife activities.
Lakarda and Anantpura Ranthambore National Park
Lakarda and Anantpura are located in the northwestern part of the park. Ant mounds are found at this place, and the ant is the favourite food of bear, due to this there is a very high probability of seeing sloth bears.
At this place, you can see the footprints of the striped Indian hyena. Also, if you have good luck, then you are also likely to see this magnificent nocturnal creature.
Although the number of striped hyena in this forest is very small, the hyena is a nocturnal creature, one of the reasons why it is less visible here, but you will see the footprints of this creature in this entire area. You can find porcupines and monkeys with many rare species in this area.
Ranthambore School of Art – Ranthambore Tiger Reserve
An art lover must visit this place. At Ranthambore School of Art located near Ranthambore National Park, students come here to make paintings. The main reason behind the construction of the Ranthambore School of Art is to make the residents and tourists coming here aware of the wildlife and the extinct wildlife.
Students of Ranthambore School of Art mainly make paintings of tigers so that people can be made aware of this magnificent creature, students who make paintings here also teach painting to local students. Art lovers and tourists coming here can cooperate for wildlife conservation by purchasing paintings made by students.
Every tourist or art lover who comes here for wildlife conservation must visit this place once and contribute to the conservation of wildlife, by doing so you help give a new life to this magnificent wildlife.
Malik Talao Ranthambore National PArk
Located in Ranthambore National Park, this lake is the smallest of all the lakes located here, but it is also the most beautiful lake. The locals also know it as Malik Talav. One of the favourite places of birds in Ranthambore, this lake is also known as the habitat of marsh crocodiles.
Migratory birds continue to come here throughout the year. Together here you can see King Fisher bird hunting small fish. This place is nothing less than a paradise for bird watchers.
Rajiv Gandhi Regional Museum Of Natural History – Ranthambore Tiger Reserve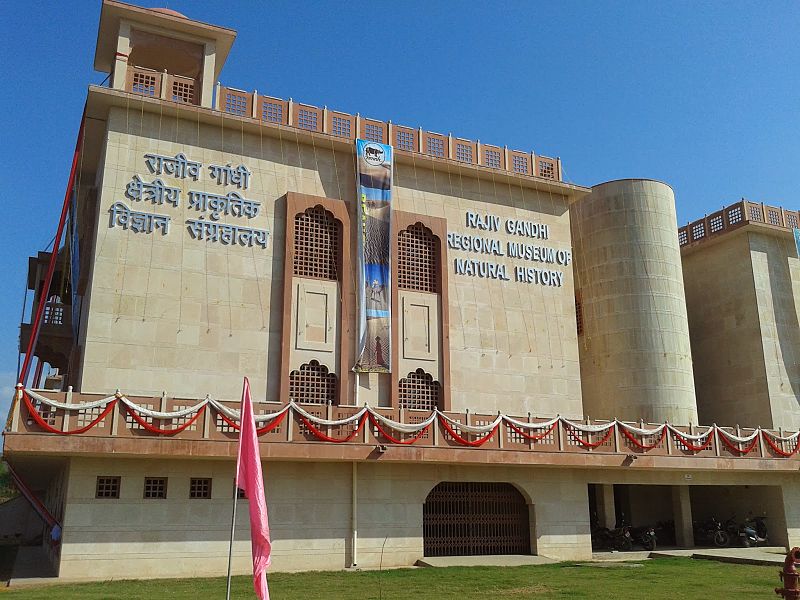 Every tourist visiting here must take some time to visit this place. In this museum, you get to know the detailed natural life of this country, only four such museums are in India. In this museum, you are told in detail about the wildlife, flora and natural resources of Western India and the geology of this region.
In this museum, you also find a library in which books related to the natural, biological and geographical location of Rajasthan and other parts of the country will be found. This museum is located in Rampura village near Ranthambore. The distance from its park is only 3.5 kilometres. The museum opens at 10 am and closes at 5 pm, and is closed on Mondays.
Rajabagh Talao Ranthambore National Park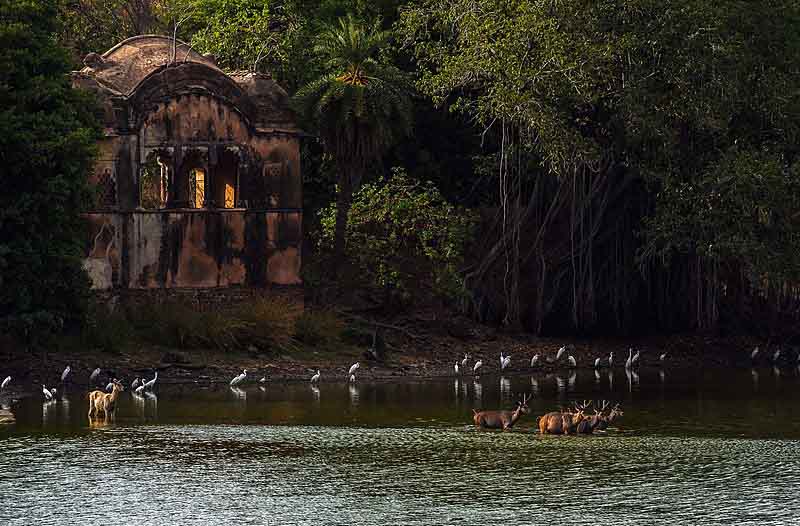 I told you about the Rajbag ruins in my previous blog, this Talav is located near these ruins. Around this pond, animals and birds always come to drink water, as well as you can get a chance to see wildlife like migratory birds and sambar deer here.
There are some scenes of sambar deer and birds in which the bird keeps riding the sambar deer. Due to wildlife around this pond, the chances of seeing a tiger at this place are very high, it is often common to see a tiger sitting in the ruins of Rajbag.
Bakula Ranthambore National Park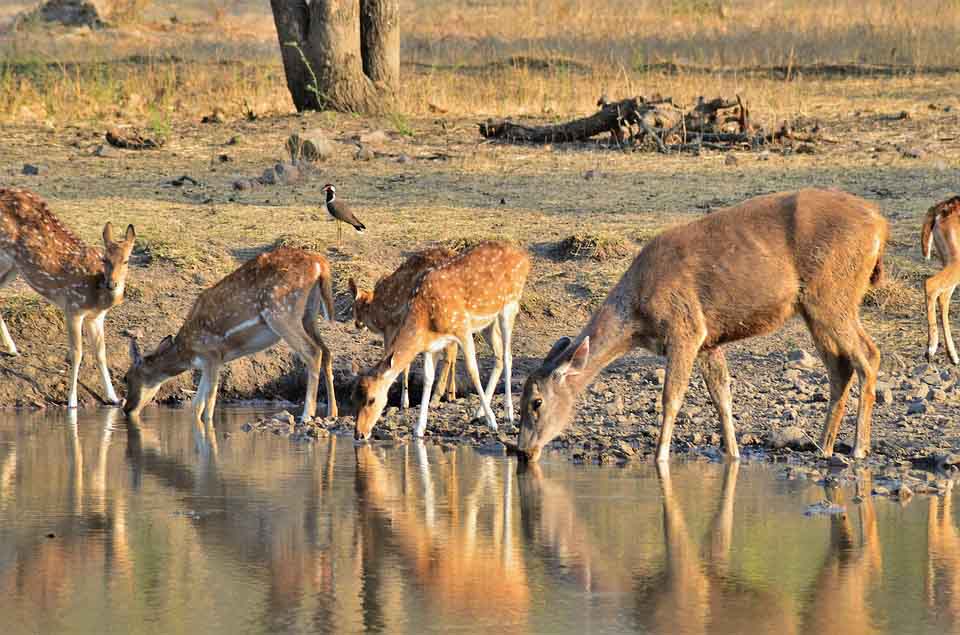 Bakula is the most densely forested place in the Ranthambore National Park, the lush green trees and vegetation situated in the dense forest of Bakula make it feel like coming to a different place. Due to being a densely forested place, there are naturally small water holes in the water, so there is no shortage of water throughout the year.
To avoid the heat during the hot season, this place has maximum wildlife in the forest. Come to the part. This place is also suitable for tiger breeding, if you have good luck, you can see tiger playing with cubs in this dense forest.
Surwal Lake Ranthambore National Park
One of the most beautiful places in Ranthambore National Park, Surwal Lake is a seasonal lake, this lake of shallow water gets dried up in summer. The distance of this lake from Ranthambore National Park is 25 kilometres. You should visit this lake after the rainy season, after the monsoon rains the number of migratory birds around this lake increases.
This lake is no less than a home for migratory birds here during the winter season. The sunrise in November gives a different feel. Tourists visiting hereafter the rains get to see species of beautiful migratory birds like Kanya cranes, pelicans, geese, flamingos, greylags.
Hotels in Ranthambore National Park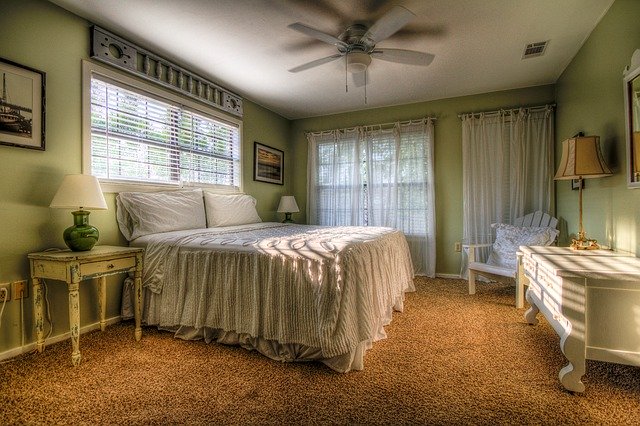 Ranthambore is just 11 kilometers from Sawai Madhopur, being a big city, there are plenty of options available for you to stay and stay. Many hotel booking websites will be found on the Internet, on which you can easily book hotels here.
If you live in your time, you can reach Sawai Madhopur and arrange to stay in the hotel or Dharamshala itself. If you like to come on weekends then there are a lot of good resorts in the village around Ranthambore, although these can be a bit expensive a great one for you to spend a good time with your family, loved ones or friends. There may be an option.
Best Time to Visit in Ranthambore National Park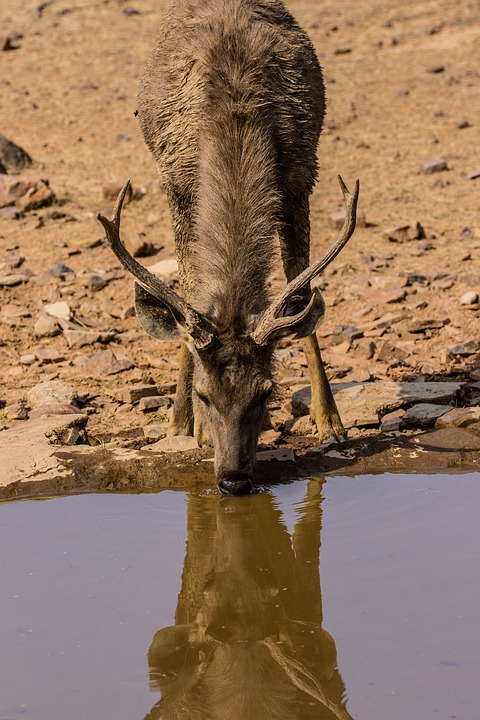 Ranthambore fort is open all the year, but if you are coming only to see the fort, then you can come here anytime except during the summer season. But if you are also visiting Ranthambore Tiger Reserve, then you have to keep in mind that Ranthambore Wildlife Sanctuary is closed during the monsoon season.
After that it remains open from October to June. The possibility of seeing wild animals or tigers during the winter season is useful. Therefore, if you come to Ranthambore Tiger Reserve after March, then the chances of seeing tigers here are greatly increased.
How to reach Ranthambore National Park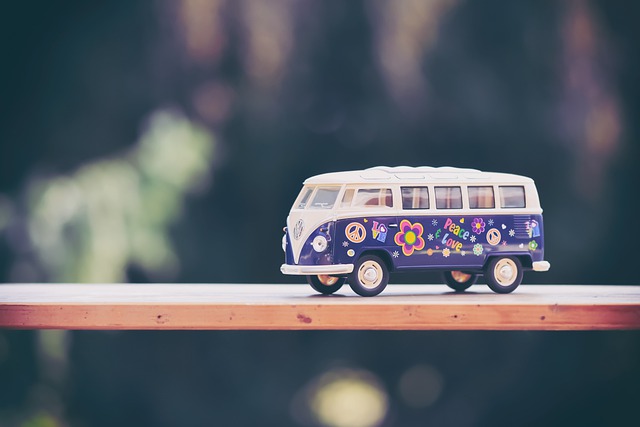 How to reach Ranthambore National Park by Flight
The nearest airport to Ranthambore Fort in Jaipur Airport, just 180 kilometres from Jaipur to Ranthambore, you will get a taxi or bus from Ranthambore to Jaipur.
How to reach Ranthambore National Park by Train
The nearest railway station of Ranthambore Durg is Sawaimadhopur, which is only 11 kilometres from Ranthambore. Sawai Madhopur railway station is very well connected to India. You will also get a taxi service from Sawai Madhopur to Ranthambore.
How to reach Ranthambore National Park by Road
To come to Ranthambore Durg, you have to first come to Sawai Madhopur, and due to Sawai Madhopur being a district headquarters, the city is connected to the major highways of the country.
From Jaipur and Kota you will get bus and taxi options for Sawaimadhopur at all times. After reaching Sawai Madhopur, you can reach Ranthambore fort by taxi or local bus service.
Nearby places to visit Ranthambore National Park
Sariska National Park, Ranthambore Fort, Ranthambore National Park Tiger Safari, Kota, Share. Facebook Twitter Pinterest LinkedIn WhatsApp Reddit Tumblr Email