World Yoga Capital Rishikesh | Rishikesh 10 Tourist Places | Rishikesh Places to Visit | Rishikesh Tourism | Places to Visit in Rishikesh
History of Rishikesh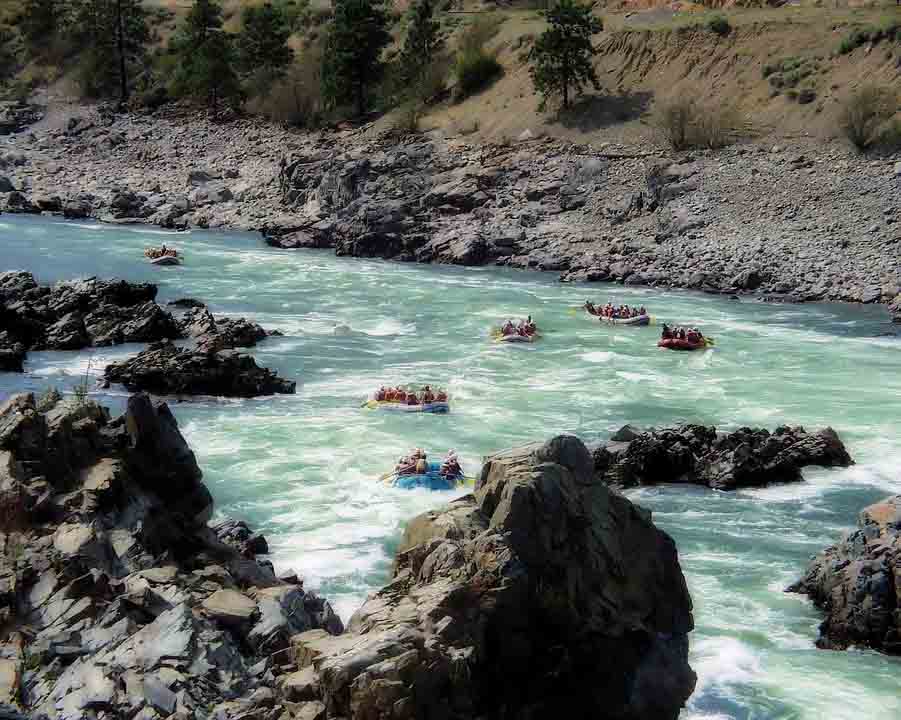 The Yoga Capital of the world Rishikesh, an ancient city situated on the foothills of the Himalayas and on the banks of the holy Ganges River. This ancient city is a sacred Hindu pilgrimage site and is also famous for the World Yoga Capital. Rishikesh is a tehsil in the Dehradun district of Uttarakhand state of India. 
Situated in the foothills of the Himalayas, Rishikesh is also called the "Gateway to the Garhwal Himalayas", Rishikesh is an ancient city, Rishikesh is also associated with many mythological stories. According to a Puranic legend associated with the churning of the Samudra Manthan in the Puranas of Hinduism, the poison emitted during the churning of the ocean was consumed by Lord Shiva at this place.
Lord Shiva's throat became indigo after drinking poison, and from that time Lord Shiva became known as Neelkanth. According to another legend related to the world-famous Laxman Jhula, Lord Rama spent his time in the forests here during exile, during his exile Lord Rama once needed to cross the holy Ganges river. Laxman built a bridge with rope at this place, which we all know today as Laxman Jhula.
A legend is more prevalent, it is also said that the sage Raibhya had done a severe penance here to see God. Pleased with his penance, Lord Hrishikesh appeared at this place and appeared to the sage Raibhya, from that time the place came to be known as Rishikesh.
Rishikesh Geography
Ganga, the holiest river of Hinduism, flowing from the Shivalik mountainous regions of the Himalayas, the river Ganga first reaches the plains of Rishikesh, the average elevation of Rishikesh from the sea level is just 372 meters (1,220 ft). There are many ancient and new temples in Rishikesh, Shatrughan Temple, Bharat Temple (incarnation of Lord Vishnu), Lakshmana Temple etc.
are ancient temples established by Shankaracharya. The Shatrughan Temple is near the Ram Jhula and the Lakshmana Temple is near the Laxman Jhula. It is from this ancient city that the journey of Badrinath, Kedarnath, Gangotri, and Yamunotri begin. Apart from being the capital of world yoga, Rishikesh is famous for Ayurvedic treatment.
Rishikesh Tourism | Rishikesh Tourist Places
Just like every tourist place has its own identity, Rishikesh also has a different identity, similarly, every traveler visiting here travels to this ancient city from his own perspective. A religious place for those who believe in Hinduism, Hindus come here to follow their religious beliefs.
For those who like adventure activities, this place is one of the favorite places to take out the inside adventurer. And being the world yoga capital, foreign tourists stop here and teach yoga for months.
Rishikesh Yoga Center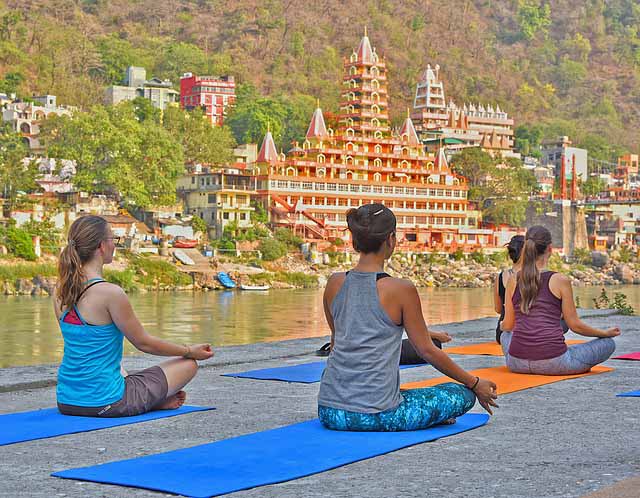 If you like yoga, then some time must be spent in Rishikesh, The World Yoga Capital. Local and foreign travellers come here to take yoga and meditation classes throughout the year to get relief from the rush of their everyday life. In February 1968, the famous English rock band The Beatles spent some time at Maharishi Mahesh Yogi's ashram.
And during this time the rock band member John Lennon recorded "The Happy Hrishikesh Song" one of the songs composed by The Beatles, but never Also this song has not been officially released. The Beatles composed several songs during their time at the ashram, many of which appear in the band's self-titled double album, also known as the "White Album".
Many other artists including Mike Love of the Beach Boys, Paul Horn, Donovan, and Zip Mills also came to Rishikesh to contemplate and contemplate and spend some time here.
The place became famous as the Yoga Capital in the world only after the Beatles visit Rishikesh, today foreign students and youth from America, Europe and China, and Australia come to Rishikesh to learn Yoga, Asanas, and Kriya throughout the year. After coming to Rishikesh, you should not forget to take Ayurvedic massage here.
Laxman Jhula Rishikesh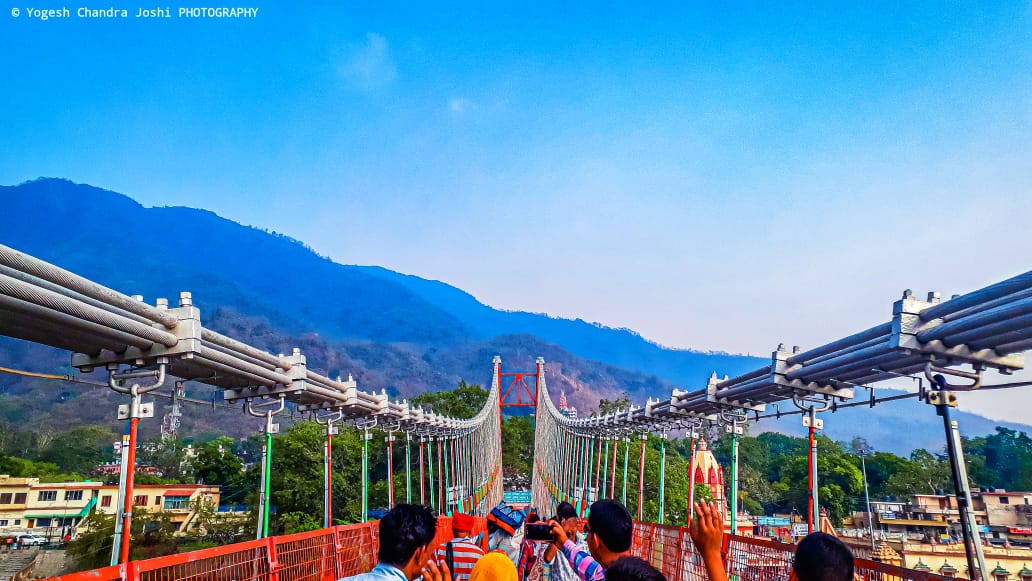 Rishikesh has been a part of the legendary 'Kedarkhand'. According to mythology, Lord Rama did penance here before fighting with Ravana. During his exile, Lord Rama once needed to cross the holy Ganges river, then his younger brother Laxman built a bridge with rope at this place which we all know today as Laxman Jhula.
In 1889, a bridge made of jute rope was replaced with an iron rope suspension bridge. After being swept away by the floods of 1924, the bridge was rebuilt at this place in 1939. The Ram swing was built in 1986 at Shivanand Nagar, a short distance from the Laxman Jhula.
Note: – Due to the reconstruction of Laxman Jhula on 12 July 2019, the local administration has closed this swing completely for the tourists, soon after the construction of the new Laxman swing starts, tourists will be able to enjoy the Laxman swing.
Lakshman Jhula Timings
At any time of day …
Lakshman Jhula Ticket Price
Entry free.
Triveni Ghat Rishikesh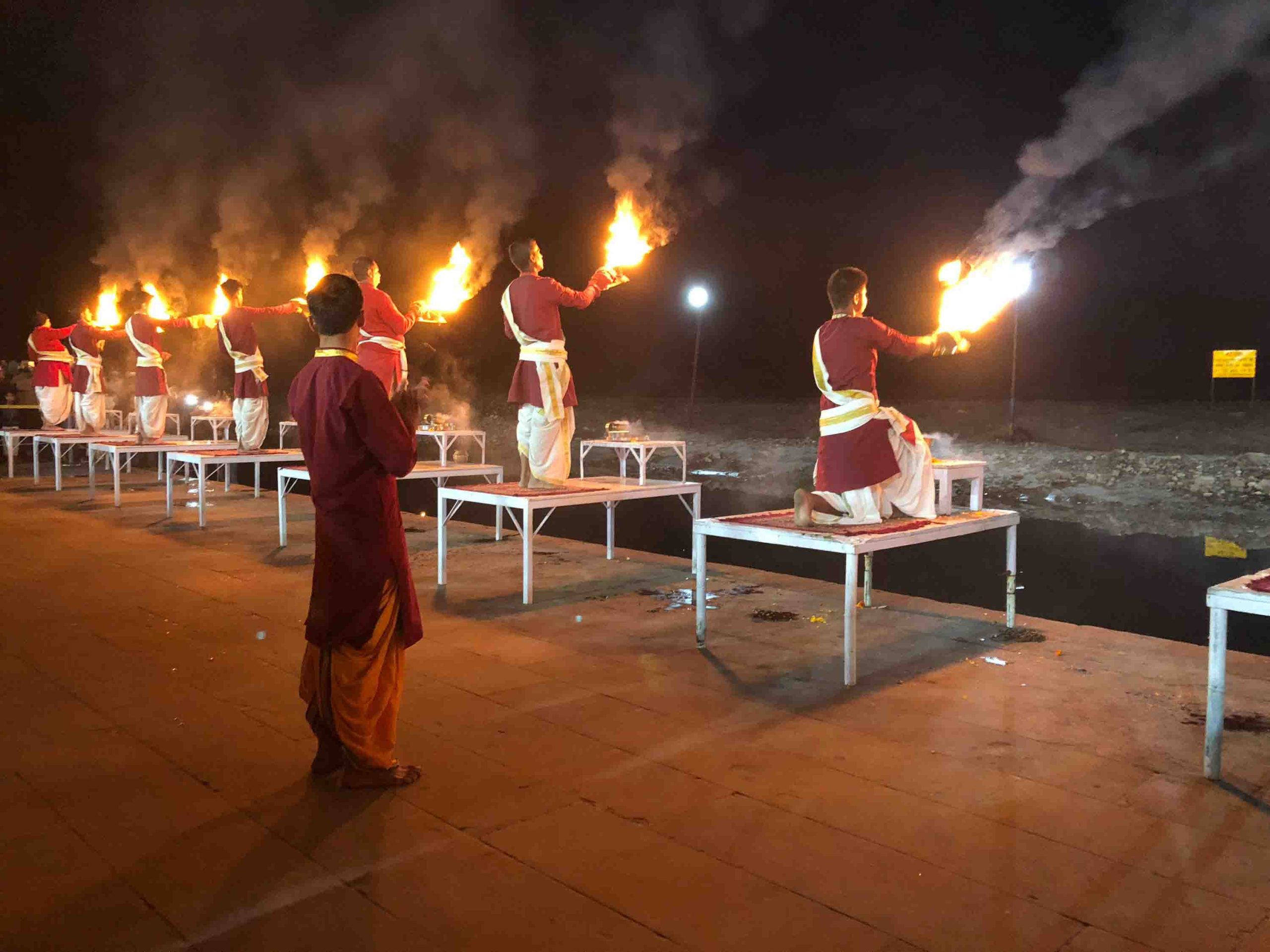 Most of the pilgrims coming to Rishikesh take bath at Triveni Ghat itself. Where many devotees take a dip in the holy Ganges river in the morning. The devotees who come to bathe at Triveni Ghat believe that after bathing and performing rituals at this place, they will get free from their sins. It is believed that at the Triveni Ghat, there is a confluence of Ganga, Yamuna and Saraswati, the three major rivers of Hinduism.
From this place, the river Ganga turns to the right. It is believed that Lord Krishna also came to Triveni Ghat after being injured by the arrow of Zara hunter. The view of the Ganga Aarti here in the evening is very attractive. 
Rishikesh Triveni Ghat Ganga Aarti Timings
The time of Ganga Aarti in the evening is from 6:00 pm to 7:00 pm.
Rishikesh Triveni Ghat Ganga Aarti Entry Fee
Entry free.
Paramarth Niketan Ghat Rishikesh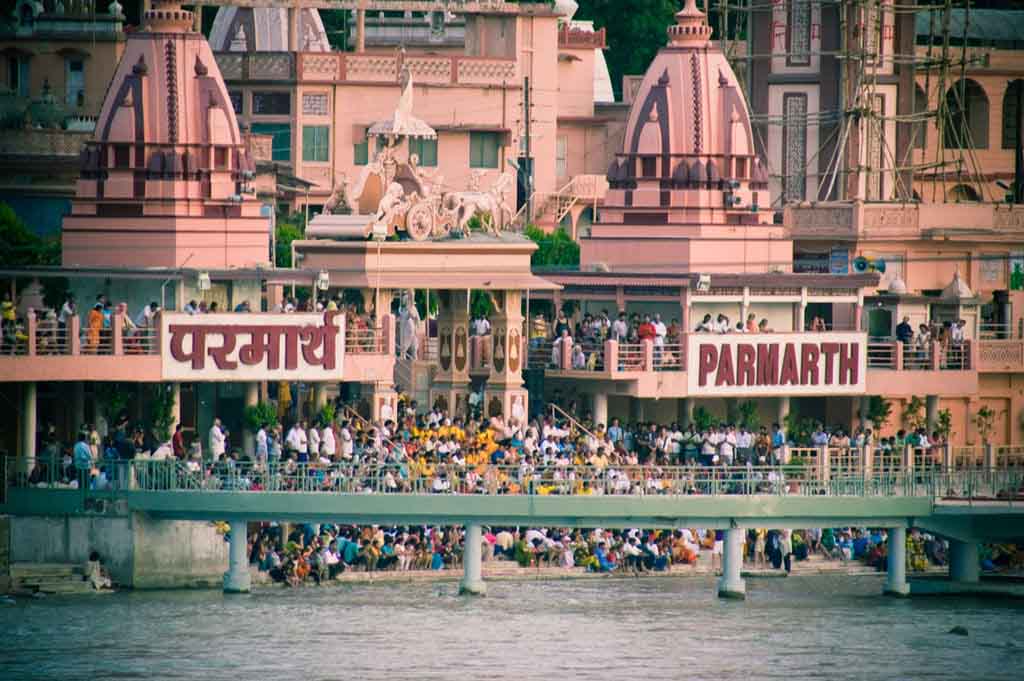 The Paramarth Niketan Ashram located near Laxman Jhula is the oldest ashram in Rishikesh established by Swami Vishuddhanand. Swami Vishuddhanand Ji was also known by the name 'Kali Kamali Wale'. There are many beautiful and ancient temples near the Ghat. Ganga Aarti is also organized after 6:00 pm at the Parmarth Niketan Ghat.
There are many food restaurants near the Ghat, only vegetarian food is served in Rishikesh, there are many handicrafts shops around Laxman Jhoola and Ashram.
Neelkanth Mahadev Temple Rishikesh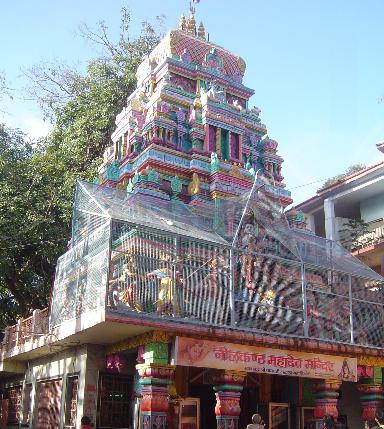 Situated at a distance of about 32 kilometres from Rishikesh is the ancient temple of Lord Shiva, which is famous as Neelkanth Mahadev. The height of the temple is about 5500 feet from the ground level. This temple is situated on the top of the hill of Swarg Ashram, it is believed that Lord Shiva took the poison emanating from the sea churning at this place.
After consuming the poison, Goddess Parvati strangled the lord so that the poison did not reach the body and after that, her throat became blue due to the effect of the poison. And Lord Shiva came to be known as Neelkanth. There is a waterfall in the temple premises where devotees take a bath before visiting the temple.
Neelkanth Mahadev Temple Rishikesh Timings
From 05:00 AM to 06:00 PM.
Neelkanth Mahadev Temple Rishikesh Entry Fee
Entry free.
Bharat Mandir Rishikesh
This temple, dedicated to Lord Rama's younger brother Bharata, was built by Adi Guru Shankaracharya in the 12th century, is the oldest temple in Rishikesh. Bharat Mandir is located in Old Town near Triveni Ghat. In 1398, the foreign invader Timur attacked this temple and damaged it. Even today many important things of the temple have been preserved to date after the invasion of Timur.
The statue of Lord Vishnu present in the inner sanctum of the temple is carved very beautifully on the Shaligram stone. Sri yantra kept by Adi Guru Shankaracharya can also be seen here.
Bharat Mandir Rishikesh Timing
From 05:00 AM to 12:00 PM and in the evening from 04:00 PM to 09:00 PM…
Bharat Mandir Rishikesh Entry Fee
Entry free.
Kailash Niketan Temple Rishikesh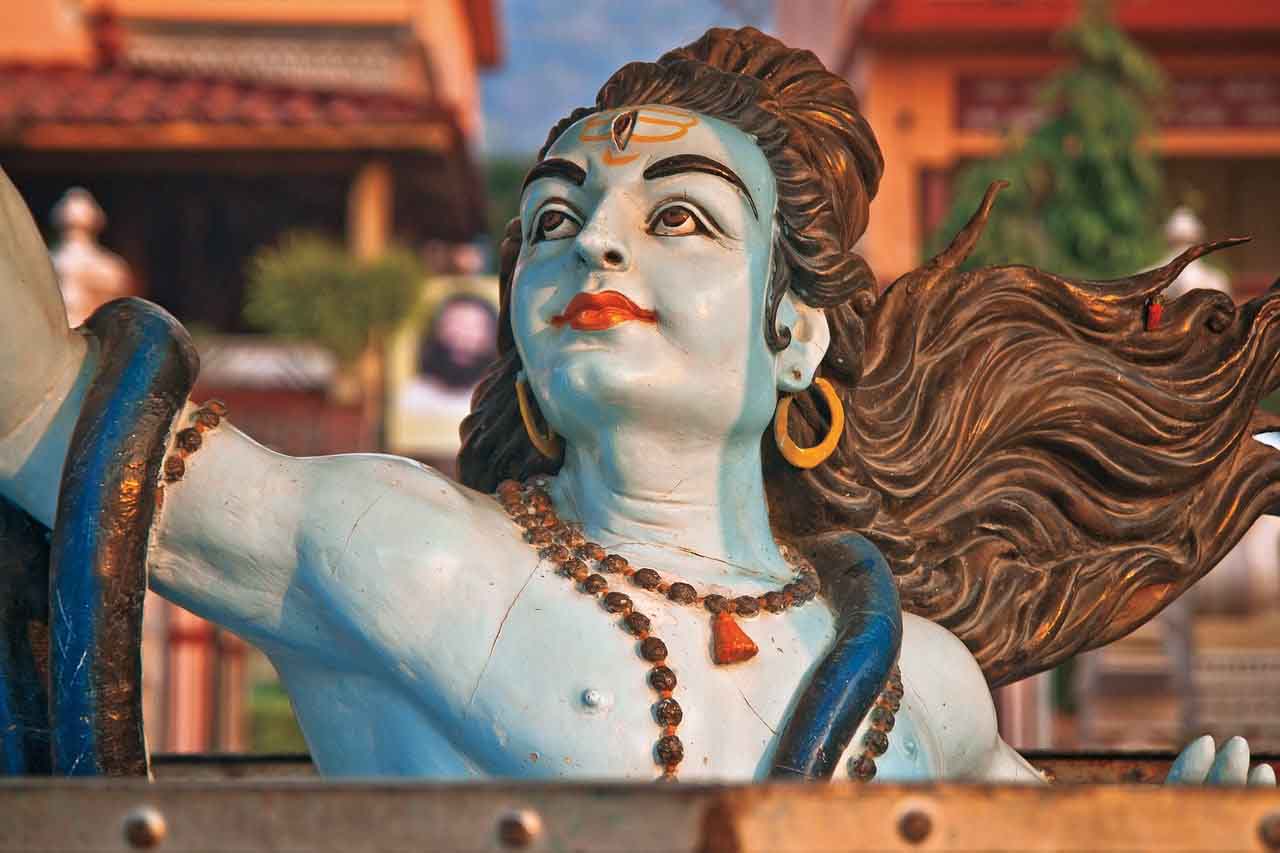 The Kailash Niketan temple near Laxman Jhula is like a huge 12-floor building. This vastness of this temple sets it apart from other temples of Rishikesh. Another special thing about this temple is that the idols of all the Gods and Goddesses have been installed in this temple.
Kailash Niketan Temple Rishikesh Timings
From 06:00 AM to 07:00 PM…
Kailash Niketan Temple Rishikesh Entry Fee
Entry free.
Vasistha Cave Rishikesh
The Vashistha cave on the Badrinath-Kedarnath road is 22 kilometres from Rishikesh, it is believed that this cave is more than 3000 years old. Many sadhus, Mahatma rest and meditate are found around this cave even today. This cave is believed that this place was the abode of Lord Rama's Guru and the priest Vashistha of King Dasharatha. A Shivalinga is also seen at the entrance to the cave.
River rafting Rishikesh | Bujnee jumping Rishikesh | Adventure Activities in Rishikesh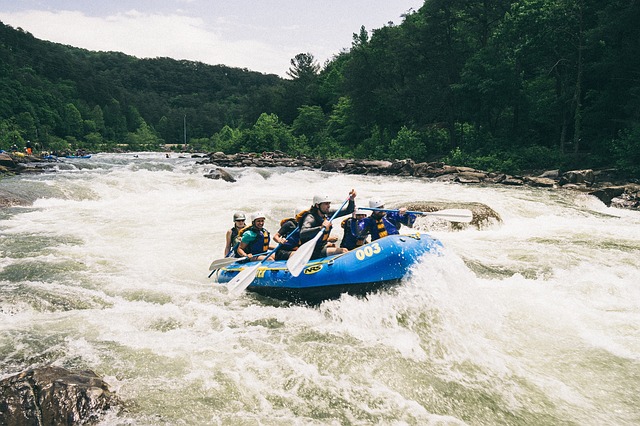 Apart from being a famous yoga centre and an ancient religious place, Rishikesh is more famous for one thing, and that is the adventure activity happening here. For those who like adventure, this place is no less than a paradise.
By the way, the list of adventure activities happening here is very long, in which I mention some famous activities, such as river rafting, bungy jumping, camping and bonfire, mountain biking, flying fox, Cliff jumping, body surfing, trekking All adventure is activity.
Neer Garh Falls Rishikesh
After a short ride on Badrinath Road, 12 km from Rishikesh, you reach here, surrounded by green hills, the waterfall offers a very breathtaking view, by bathing in the cool water of the waterfall, you can relieve your tiredness at the small restaurant here. You can also enjoy breakfast and food.
Local Market in Rishikeshsh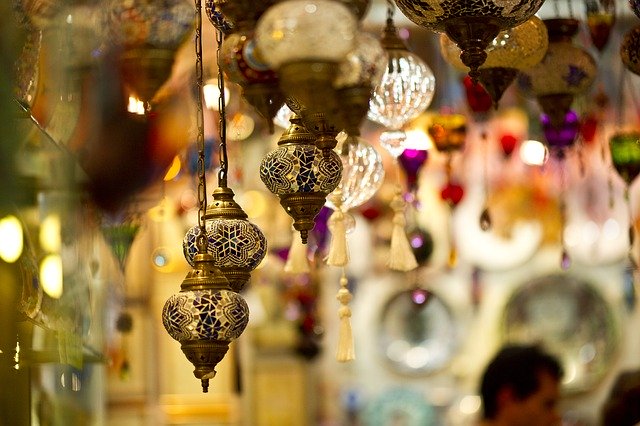 Being a religious place, Rishikesh has many shops selling religious items, as well as a number of shops for buying handicrafts. From here you can also shop for saris, bed covers, handloom fabric, cotton fabric, etc.
Rishikesh has a number of government-recognized handloom shops, Khadi Bhandar, Garhwal Wool and many craft shops from where high-quality goods can be purchased. If you make a bargain at these shops, you can get the goods at a good price.
How to reach Rishikesh
How to Reach Rishikesh By Road
There are regular buses to Uttarakhand from the Inter-State Bus Terminus (ISBT) and Kashmiri Gate in Delhi. Both A / C and NON-A / C bus services are provided by Uttarakhand Transport Corporation (UTC) and some private bus operators. Delhi to Rishikesh distance is only 230 KM, and Rishikesh is also well connected to other cities. The bus journey can take around 5-7 hours depending on the traffic.
How to Reach Rishikesh By Train
By the way, there is a railway station in Rishikesh, if you want to come by train to Rishikesh, then in my suggestion, you will find the train connectivity of Haridwar is better than the other cities of the country, just a few trains a day for Rishikesh It only moves.
How To Reach Rishikesh By Flight
The nearest airport to Rishikesh is Jolly Grant Airport Dehradun, Dehradun to Rishikesh  Distance is about 20 km. There are regular flights from this airport to Delhi, Bangalore, Mumbai, Hyderabad, Chennai, Trivandrum and Lucknow.
Tourists from abroad and from other parts of India can reach the airport by connecting flights to major cities in India. Indira Gandhi International Airport in Delhi is a world-class international airport, located at a distance of 230 km from Rishikesh.
Rishikesh Taxi Services
Some service providers also provide taxi service in Rishikesh. These taxis include SUVs, sedans and luxury cars. Private companies in and around Rishikesh offer you the option of renting a car on a per day and per hour basis. Some popular car rental companies provide rental cars. Please know the fare before taking a car rental service.
Best time to visit Rishikesh | Rishikesh Weather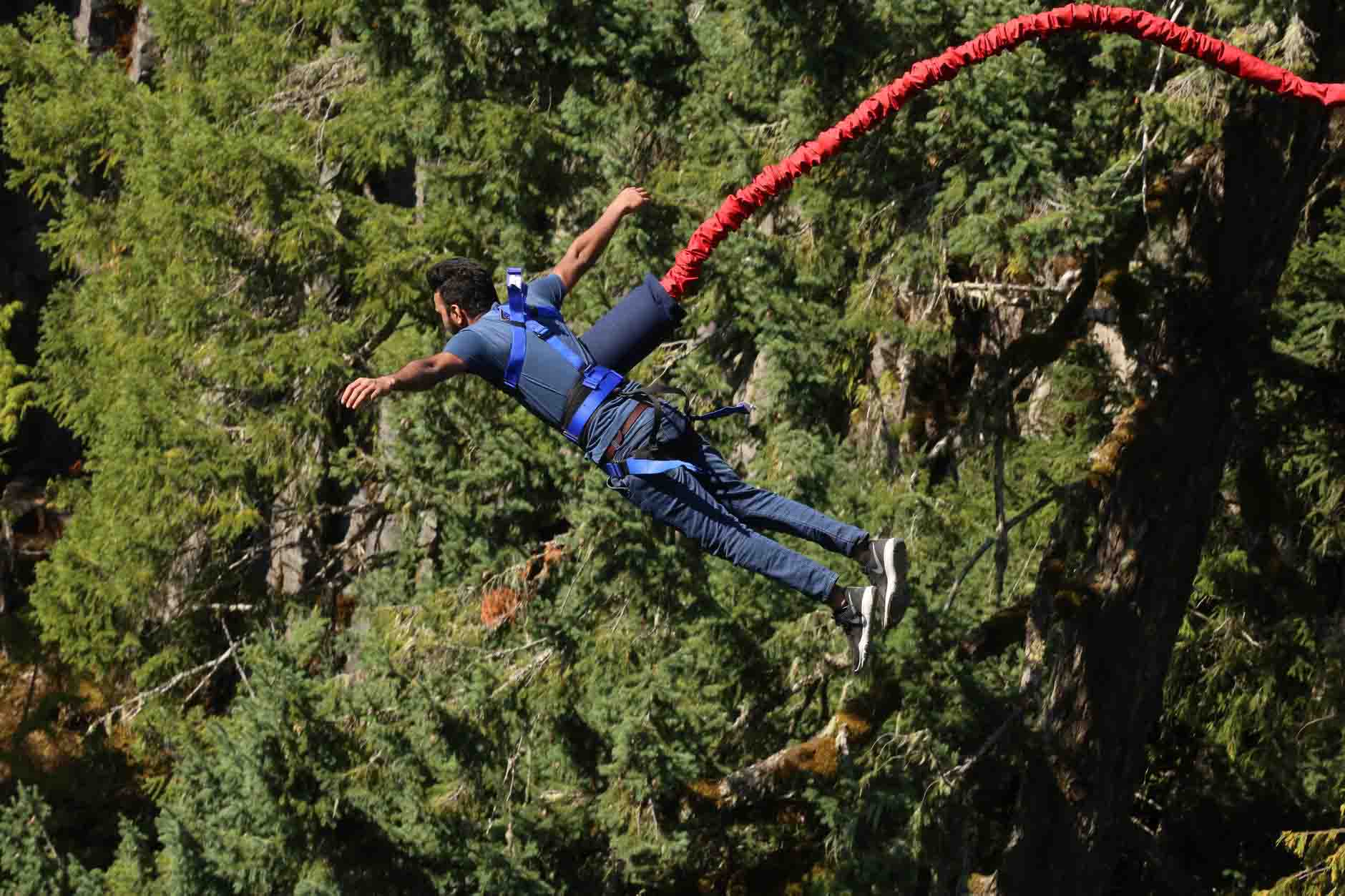 The best time to visit Rishikesh for river rafting and other adventure activities are from October to November, and then the best time to visit Rishikesh is from March to the first week of May. In the month of July, there is a Sawan month dedicated to Lord Shiva in the whole of India, which lasts for a month, at that time tourists should avoid visiting Rishikesh.
At this time lakhs of devotees come to take a bath in the Ganges in Rishikesh. At present, major roads are blocked and congestion in hotels increases
Nearby Places To Visit Rishikesh
Dhanaulti, New Tehri, Tehri Lake, Rajaji National Park, Malsi Deer Park, Dehradun, Narendra Nagar, Nag Tibba, Mussoorie, Haridwar, Chamba, Dashavatar Temple, Joranda Falls, Barehipani and New Tehri Township, Mattila Dam and Deogarh Fort are huge lists. Tourists can also enjoy many adventure sports like river rafting, bungee jumping, rock climbing, hiking and trekking here. This camp provides other facilities to the tourists besides staying.
(If you have reached here in my article, then you have a small request from me to share your suggestions related to this article in the comment box below, and if you see any deficiency or any wrong information, then also definitely Tell. I keep posting information related to travel on this website, if you like the information given by me, then you must subscribe to my the website through your email, thank you.)