Shrinathji Temple | Shrinathji | Shrinathji Darshan | Shrinathji Nathdwara | Timing | Entry Fees | Aarti | Darshan | History
History of Shrinathji Temple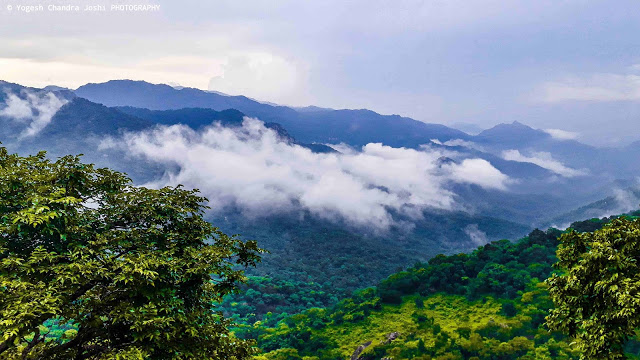 The area around Nathdwara in Rajsamand district is naturally very rich. The city is located near the Aravalli Range and is situated on the banks of the Banas River. Nathdwara is just 45 km away from Udaipur. Nathdwara is not a famous site due to the natural wealth surrounding it or the Banas River. 
Rather, because of Lord Shrinathji's temple located in Nathdwara, the city is known as the famous religious tourist destination of India and the world. The Deity of Lord Shrinathji established in Nathdwara is basically considered as the form of Lord Krishna. By the way, all the people who believe in Hinduism in Nathdwara go to see Lord Shrinathji. 
But people associated with the Pushya Marg Vaishnav sect of Hindu religion have special faith in Lord Shrinathji. According to legends and local beliefs associated with the Deity of Lord Shrinathji, Lord Shrinathji appeared as a stone from Mount Gowardhan, located near Mathura. 
After embarking on Mount Govardhan, Lord Srinath Ji started to be worshipped on Mount Govardhan. Vallabhacharya Ji, the chief priest of the temple, had the responsibility of worshipping and maintaining worship in the temple of Lord Srinath. After Vallabhacharya, his son Vitthalnathji supervised the temple of Lord Shrinathji and continued the puja. 
In the 17th century, the Mughal ruler Aurangzeb was destroying Hindu temples and Hindu shrines throughout India. In 1672, Aurangzeb lost sight of Srinathji's temple in Mathura, and he sent his Mughal army to Mathura to break the temple and the deity of Lord Srinath. 
At that time, Damodar Gosai Ji, the chief priest of Shrinathji temple, came to know about the invasion of the Mughals, and he left the shrine of Lord Shrinathji on a horse cart from Mathura. After leaving Mathura, Damodar Gosai Ji came to know that the Deity of Lord Shrinathji in Mewar would be completely safe, then he came to Mewar with the Deity of Lord Shrinathji. 
At that time, when the ruler of Mewar Maharana Raj Singh came to know that Damodar Gosai Ji from Mathura is coming to Mewar with the Deity of Lord Shrinath. So Maharana Raj Singh himself came to Damodar Gosai Ji to see Lord Shrinathji. 
After seeing Lord Shrinath Ji, Maharana Raj Singh pledged to Damodar Gosai Ji that Aurangzeb and his Mughal army could not touch the Deity of Lord Shrinathji as long as there is a single Rajput alive in Mewar. After that, the construction work of Lord Shrinathji's temple in Nathdwara was started in 1672. 
Shrinathji's temple located in Nathdwara is also known as "Shrinathji Ki Haveli". It is also believed that Mewar's princess Ajab Kunwar was a very great devotee of Lord Shrinathji. It is said that Lord Srinath Ji used to come from Brij to play Chaupar with Princess Ajab Kunwar. 
After one time the princess requested Lord Shrinathji to stay in Mewar, then Lord Shrinathji assured the princess that when the right time comes, he will definitely make his permanent residence in Mewar. In 1934, the then ruler of Udaipur issued an order that all types of property attached to the Shrinathji temple would be the right of the temple. 
Shri Tilakayat Ji Maharaj, the then chief priest of the Shrinathji temple, who was appointed as the guardian, trustee and manager of the temple. 562 types of property attached to the temple should not be misused, so the ruler of Udaipur reserved the right to maintain the Shrinathji temple.
Deity of Shrinathji | Shrinathji Temple Nathdwara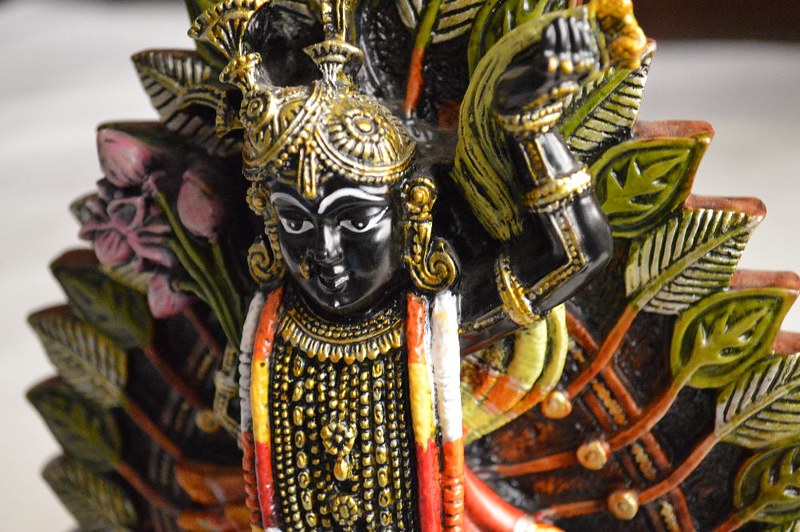 The Deity of Shrinathji installed in Srinathji temple of Nathdwara is considered as another form of Lord Krishna. The Deity of Shrinathji located in the temple stands in the same stage in which Lord Krishna raised the Gowardhan mountain with the smallest finger of his left hand. The shrine of Lord Shrinathji is made of rare black marble stone. 
The left hand of the Deity is raised in the air and the fist of the right-hand rests on the waist. There is also a diamond under the lips of God. A lion, two cows, a snake, two parrots and two peacocks are also seen along with the Deity of Shrinathji and in addition to all these, pictures of three sage sages are also kept near the Deity.
Shrinathji Stories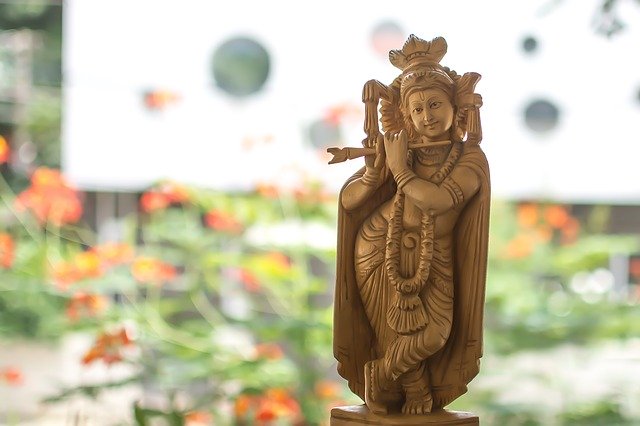 Lord Shrinathji's faith in medieval India was greatly increased in other cities of India besides Mathura and Nathdwara.  Before the partition of India, Sri Lalji Maharaj and Shri Dauji Maharaj built Sri Gopinathji Temple dedicated to Lord Shrinathji at a place called Dera Ghazi Khan (presently a city in Pakistan).  
Lord Srinath Ji has been revered in Russia and many countries of Central Asia apart from India.  Even today, foreign travellers who have reverence for Lord Shrinath Ji definitely travel to India to see Shrinathji.
Architecture of Shrinathji Temple
The temple of Lord Shrinath in Nathdwara is located in the inner part of a fortified palace.  The palace situated on the exterior of the temple was built by the Rajput kings of the Sisodia dynasty.  The architecture of the main temple is influenced by the architecture of the temple dedicated to Lord Krishna's father Nanda Baba located in Vrindavan.  
A Kalash has been installed on the top part of the temple, Sudarshan Chakra of Lord Krishna has also been installed along with the Kalash.  In addition to the Kalash and Sudarshan Chakra, seven banners are also hoisted on the summit of the temple.  These seven banners represent the Pushya Marg Vaishnava Sampradaya (Vallabh Sampradaya).  
Shrinathji's temple is also known as "Shrinathji Ki Haveli".  In the Pushya Marg Vaishnavism, Shrinath Ji is worshipped as a person and due to this shrinathji temple is called as "Shrinath Ji ki Haveli".  In general language, it can be said that Shrinathji's temple located in Nathdwara is Lord Shrinathji's house.  
Therefore, Shrinath Ji is also worshipped in the temple in a different way from other temples.  Shrinathji's temple is in a way the home of God.  That is why in a house there are rooms made for different use.  Similarly, the temple has a room for milk, a room for sweets, a room for betel nut, kitchen, separate room for flowers, living room, stud, drawing room, jewellery room, gold and silver grinding mill and locker room.  
Is made up  Apart from all these chambers, the chariot on which the shrine of Lord Srinath was brought is also displayed as the main vehicle of the house.  Two temples dedicated to Lord Madan Mohan and Naveen Priya are built in the main premises of Nathdwara Temple.
Festivals in Shrinathji Temple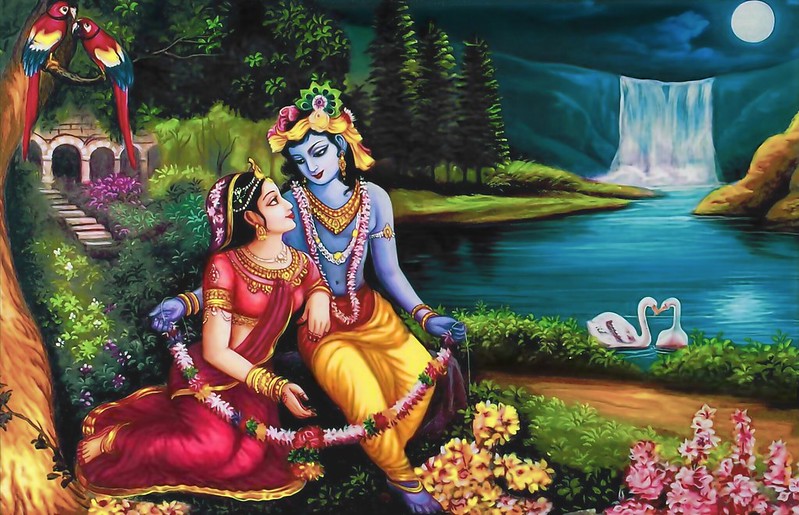 The shrine of Lord Shrinathji in the Shrinathji temple depicts the child form of Lord Krishna, whose condition is that of a seven-year-old boy. It is believed that when the Deity of Shrinath Ji descended from Mount Gowardhan, it looked like the form of hair of Lord Shree. Therefore, the festival of Krishna Janmashtami is celebrated with great pomp in the Shrinathji temple. 
During the festival of Krishna Janmashtami, a large number of devotees come to Nathdwara to visit Lord Shrinath Ji. Apart from Krishna Janmashtami, the festival of Holi and Diwali is also celebrated with great enthusiasm in the temple.
Shrinathji Temple Aarti Timings
Regarding the Deity of Lord Shrinathji in the temple of Shrinathji located in Nathdwara, devotees and priests believe that Shrinathji's Deity is alive. Therefore, worship of God in Shrinathji's temple is different from other temples. 
In Shrinathji temple, the routine (worship) of Lord Shrinathji remains like a small child. In Lord Shrinathji's routine, from lifting him early in the morning to bathing God, making food, resting and making God sleep at night, all these tasks are predetermined. 
Prasad offered at the time of Lord Shrinath's food is called Bhoga. The darshan (routine) of Shrinathji is divided into eight parts of the day and all these parts are called by different names called Mangala, Shringar, Gwal, Rajbhog, Uthapan, Bhoga, Aarti and Shayan. 
In all these darshan, Lord Shrinathji is prepared in different form every time. By the way, devotees can go to darshan in any aarti that occurs during the day. But watching Shrinathji Shringar Aarti of God provides a different experience. In Shringar Aarti, Lord Shrinathji is decorated with very beautiful and hand made silk cloths. 
Brocade and embroidery is very fine work done on all the clothes of God. Apart from the clothes, all the jewels worn by Lord Shrinathji are made of real gold. Bhajan kirtans are held in the temple during the night, due to this the atmosphere of the temple becomes very religious and joyful in the night aarti.
Shrinathji Darshan Timings
| | | |
| --- | --- | --- |
| S.no |        AARTI |           TIME |
| 01 | MANGLA AARTI | 05:45 AM  To 06:30 AM |
| 02 | SHRINGAR AARTI | 07:15 AM  To 07:45 AM |
| 03 | GWAL AARTI | 09:15 AM  To 09:30 AM |
| 04 | RAJBHOG AARTI | 11:15 AM  To 12:05 PM |
| 05 | UTHAPAN AARTI | 03:45 PM  To 04:00 PM |
| 06 | BHOG AARTI | 04:45 PM  To 05:00 PM |
| 07 | AARTI | 05:15 PM  To 06:00 PM |
| 08 | SHAYAN AARTI | 06:15 PM  To 07:15 PM |
Note: – The temple management in Shrinathji temple can be changed at any time during the time of Lord Shrinathji's darshan. There is a complete ban on the use of cameras and mobile cameras in the temple premises.
Local Market in Nathdwara – Shrinathji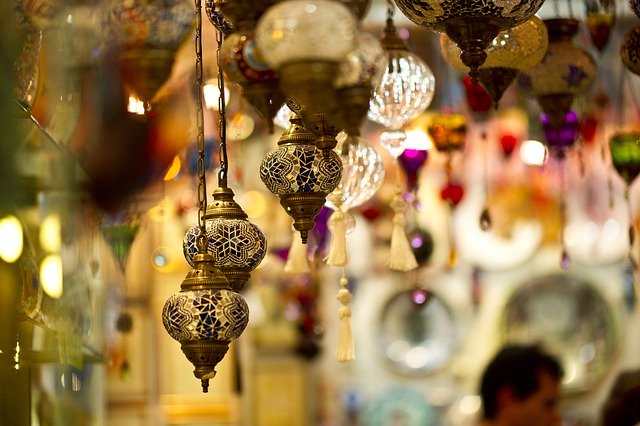 In the local market of Nathdwara, there will be many shops available to buy Rajasthani handicraft sculptures, traditional costumes worn in Rajasthan, household utensils etc.  But the thing which is most famous in the local market of Nathdwara and which is bought the most in Nathdwara.  
It is a very beautiful portrait of Lord Shrinathji made from the ancient painting system of Rajasthan.  The ancient painting system of Rajasthan from which pictures of Lord Shrinathji are made is called "Pichai Panting".  In Nathdwara, the paintings made by the Pichai painting method depict the Ras-Leelas and dances composed by Lord Shri Krishna very finely in addition to the paintings of Lord Shrinathji.  
The most important thing about Pichai Panting is that when a picture is made in this way, colours made of pure gold are also used when needed at that time.  Apart from Pichai painting, tourists and devotees visiting Nathdwara love to have their names written on rice grains by local artists.  
In Nathdwara, there are many small and big stalls of artists writing on rice grains.  Very beautiful idols of "Laddu Gopal", considered to be the childlike form of Lord Krishna, worshipped in the house of every Hindu family of India, can be purchased at Nathdwara.  And together with "Laddu Gopal" a lot of beautiful clothes can also be purchased.
Local Food in Nathdwara – Shrinathji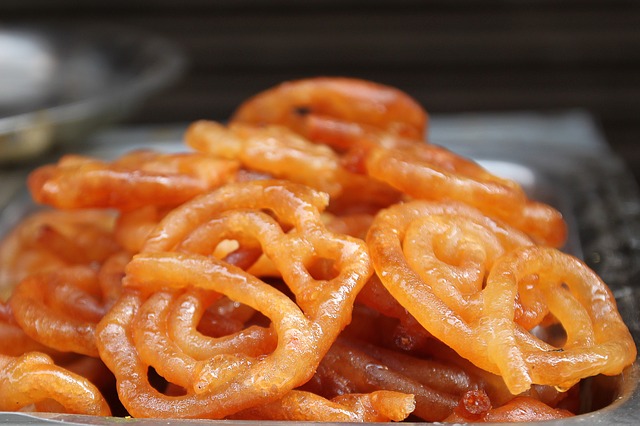 Being a famous religious tourist destination, Nathdwara has a wide variety of food varieties available from different states of India to eat and drink.  But traditional food shops associated with Gujarat and Rajasthan are more available.  
Khaman, Dhokla, Fafda, Jalebi, Mitti Kachori and Sweet Samos of Gujarat are very liked by tourists in Nathdwara.  And Rajasthan's Rasgulla, Kadhi Kachori, Kadhi Samosa and Mirchi are well-liked by big tourists.  
In Nathdwara, tea made in clay-plated Kulhad is also very famous.  Chilled made of pure milk in beverages, cannabis cold made in Shikanji and Nathdhara is very popular among tourists.
Hotels in Nathdwara – Shrinathji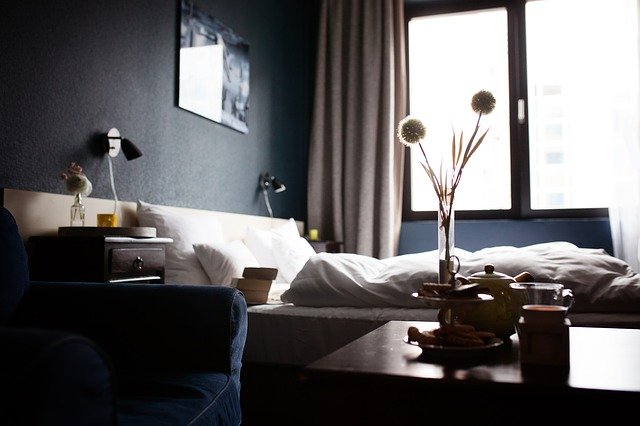 Being a famous religious tourist place, Nathdhara has a lot of options for the devotees and tourists who visit Lord Shrinathji to stay at Nathdwara.  Devotees and tourists coming to Nathdwara can stay in Dharamshalas of different sects associated with Hinduism and connected to different states of India.  
Apart from Dharamshalas, hotels are also available to stay at Nathdwara.  Tourists and pilgrims coming to Nathdwara can get the hotel booking done online very easily.  The phone numbers and addresses of many Dharamshalas located in Nathdwara are available on Google.  
There are many Dharamshala in Nathdwara where devotees can stay for free.  Apart from this, the minimum fee to stay at Dharamshalas located in Nathdwara starts from Rs. 50 / -.  Apart from Dharamshalas, the fees of the Hotel Room located in Nathdwara can be searched on Google.
How to reach Nathdwara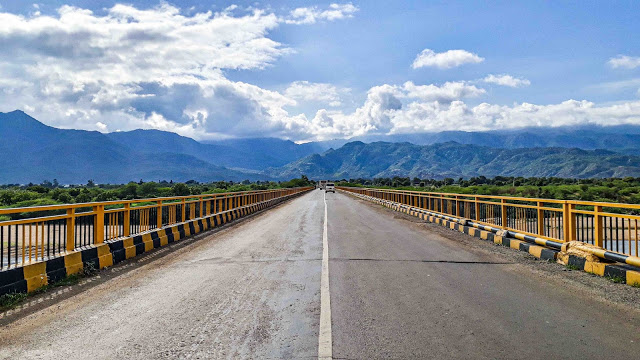 How to reach Nathdwara By Road
Being a major religious place of India, Nathdwara is connected to the major national highway number eight of India. There is a very good facility of government and private buses to Nathdwara from major cities of Gujarat and Rajasthan.
Apart from this, if you want, you can reach Nathdwara very easily by your personal vehicle or even by cab. The distance from Udaipur to Nathdwara is 46 km by road. If you come to Udaipur from Jaipur, then Nathdwara comes first.
How to reach Nathdwara By Train
Mavli Junction railway station is the nearest railway station to Nathdwara. It is only 30 kilometres from Mavli Junction railway station to Nathdwara. Apart from Mavli Junction railway station, Nathdwara can be reached very easily from Udaipur railway station.
Nathdwara is just 46 kilometres from Udaipur railway station. Mavli and Udaipur to Nathdwara are well connected by road. Apart from government and private buses from these two places, Nathdwara can be reached very easily by cab.
How to reach Nathdwara By Air
Nathdwara is just 49 kilometres from Maharana Pratap Airport (Dabok Airport) of Udaipur. Udaipur Airport is very well connected to major cities of India. If you are travelling from abroad and coming to Nathdwara, then Nathdwara is only 302 km from Ahmedabad Airport located in Gujarat and 355 km from Nathdwara from Jaipur city of Rajasthan. Jaipur and Ahmedabad are very well connected to major cities of the world by air.
Places to Visit near Nathdwara
There are a lot of beautiful tourist places around Nathdwara like Udaipur Part-01, Udaipur Part-02, Udaipur Part-03, Udaipur Part-04, City Palace, Kumbhalgarh, Kumbhalgarh National Park, Jodhpur, Ranakpur, Parashuram Mahadev Temple at Sadi, Chittorgarh, Mount Abu and Amba Ji Temple located in Gujarat, you can also take time out.
(If you have reached here in my article, then you have a small request from me to share your suggestions related to this article in the comment box below, and even if you find any deficiency or any wrong information Tell. I keep posting information related to my website on this website, if you like the information given by me, then you must subscribe to my website through your email, thank you)